Meet disabled Aboud who travels to school 10 km on a wheelchair
Read 278 times
Comments::DISQUS_COMMENTS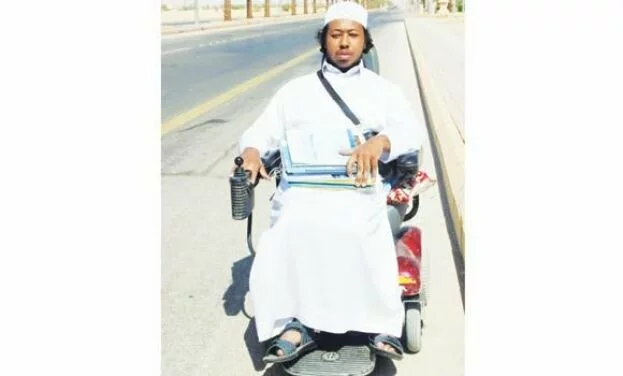 Jeddah: A student with a disability living in Aflaj uses his wheelchair to travel over 10 km to school every day. Aboud Al-Aboud, who is in his final year of high school, says that he is committed to his studies and wants to have a decent job some day. Al-Aboud relies on his rickety electric wheelchair to get around whether it is under the scorching summer sun or in the chill of the cold winter months.
Al-Aboud says he was forced to rely on himself to get to school because his father is busy at work supporting the family. He says he has learned to depend on God, himself and the wheelchair to continue his studies. 
Al-Aboud says he is grateful to his private school's director, Ahmad Al-Kheran, for helping him over the years. According to Al-Kheran, Al-Aboud is one of the school's best students and is dedicated to developing himself. Many of Al-Aboud's school friends have made a public appeal for someone to help him get a car so that he can get to school and back home.
Tagged under
Jeddah
Wheelchair
School
Related items
Boy goes missing fearing school in Surathkal
Every Indian must get free and compulsory education
Students welcomed to the school with grand procession in Kulai
Schools reopen today: Colourful uniforms back on the roads