Gandhi, Nehru saw Subhas Chandra Bose as threat to their positions: Swamy
Comments::DISQUS_COMMENTS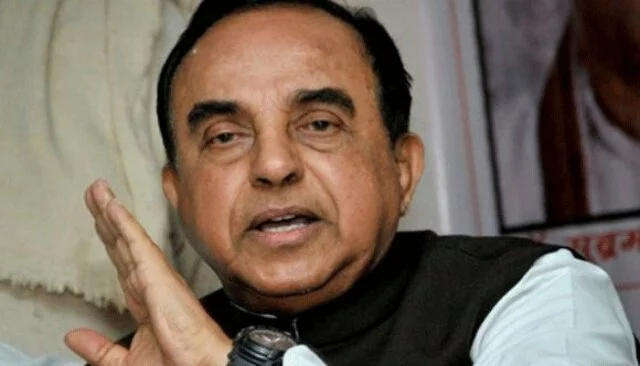 New Delhi: Launching a scathing attack on Gandhi and Nehru, Bharatiya Janata Party (BJP) leader Subramanian Swamy said in a Tweet that they saw the revolutionary leader Netaji Subhas Chandra Bose as threat to their positions. ​

Swamy's Tweet was retweeted on the social media, Sunday, following a political row, which broke over the Intelligence Bureau (IB) spying on Bose's two nephews, Sisir Kumar Bose and Amiya Nath Bose, sons of his brother Sarat Chandra Bose between 1948 and 1968. Jawaharlal Nehru was Prime Minister for 16 of these 20 years.

In January, the BJP leader had written on microblogging website Twitter: 'Self-interest is uppermost for the modern Indians.'
Shortly after the above Tweet went viral on the net, in another one, Swamy today wrote: "Netaji murder now unravelled must go further to include INA treasure chests, returned to India by Japan, that were stolen by Nehru."

Another senior BJP leader and Union Minister Nirmala Sitharaman had yesterday said snooping was in the "DNA" of the Congress.

With Congress being targeted over the snooping row, party's general secretary Digvijay Singh hit out at PM Narendra Modi, saying he had, as Gujarat Chief Minister, turned spying into an "art".

All India Forward Bloc, founded by Bose, had also demanded declassification of all Netaji files.

Party general secretary Debbrata Biswas said in a statement, yesterday, that the Atal Bihari Vajpayee government did not make available many documents to the Mukherjee Commission of Inquiry it had formed to go into the mysterious disappearance of Bose.

When under house arrest by the British, Netaji had escaped from India in 1941 to seek international support for the freedom struggle. After organising the Indian National Army with Japanese help to wage a war against the British, he had gone missing in 1945 and was believed to have died in a plane crash.

The Mukherjee Commission had, however, rejected the theory that Bose was killed in the crash in Taiwan on August 18, 1945.
Related items
Now, buy products through Twitter
Communist feminist calls PM Modi daughter stalker: Sparks twitter war
Four jailed for life after insulting UAE on Twitter
Win Muslim hearts and get votes, Sanjay Raut told: by Twitter users