AAP expels Prashant Bhushan, Yogendra Yadav
Comments::DISQUS_COMMENTS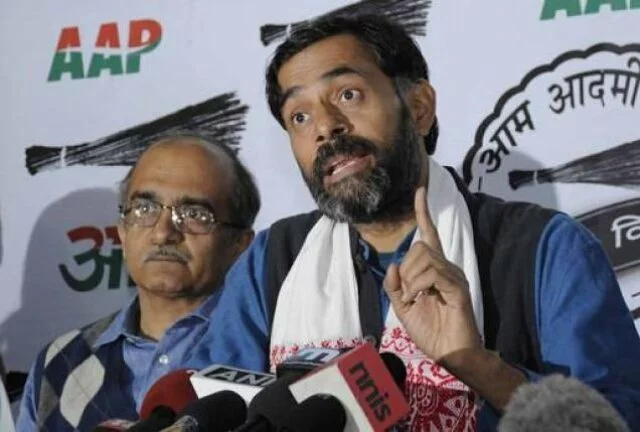 New Delhi: The Aam Aadmi Party (AAP) expelled founder members Prashant Bhushan, Yogendra Yadav and Anand Kumar late Monday for anti-party activities and violating the code of ethics, ending a raging rebellion in the two-year-old outfit that threatened to overshadow its historic poll victory in the Capital.

The decision to throw out the trio, along with Ajit Jha, was taken at marathon meeting attended mostly by leaders close to Delhi chief minister Arvind Kejriwal, hours after Yadav and Bhushan replied to show-cause notices and criticised the AAP leadership for attempting to stifle dissent within the party.

"The National Disciplinary Committee carefully considered responses furnished by Yogendra Yadav, Prashant Bhushan and Anand Kumar and found them unsatisfactory.

The Committee reached the unanimous conclusion that they had indulged in gross indiscipline and anti-party activities. They have violated the Code of Conduct detailed in the party's constitution," a statement issued by the party read.

The party won a landslide victory in the Delhi polls barely two months ago but has since been embroiled in a bitter internal feud, with a series of leaked letters establishing the presence of two camps — one supporting Kejriwal and another comprising Yadav, Bhushan and others who accuse the Delhi CM of being dictatorial.

Leaders close to Kejriwal have accused the rebels of working against the party before the elections and conspiring to remove the Delhi CM as the party convenor. "We have dealt with the dissidence in the party on our part. We now want to move on and focus on our fight against the land acquisition amendment," said a senior AAP leader.

The rebels were slapped with show-cause notices after they held a Swaraj Samwad (dialogue for self-rule) with over 2,000 volunteers in Gurgaon last week. While three of them replied and accused the party of violating its own constitution, Jha didn't respond to the notice.

"The Committee is of the view that Ajit Jha failed to furnish his response in stipulated time despite sufficient time to his disposal. The Committee is of unanimous view that he is also guilty of gross indiscipline and indulging in anti-party activities," the AAP statement elaborated.

The factional fight has caused massive embarrassment to the party that rode to power on popular goodwill over its image of being clean and different. The dissident leaders were removed last month from AAP's top decision-making bodies after they publicly questioned the "dictatorial" ways of Kejriwal.

Several senior leaders quit the party during the feud where rebels accused Kejriwal of adopting unfair means to capture power while those loyal to the Delhi CM, such as deputy chief minister Manish Sisodia, alleged the veterans were trying to sabotage and discredit AAP.

The period also saw several sting operations and leaked letters that raised questions about AAP's internal democracy and anti-corruption policies with Yadav saying his supporters were beaten up at a key national executive meeting last month.


Related items
Kejriwal ruined our family, careers, says AAP official's wife
Fake law degree row: Delhi minister Jitendra Singh Tomar arrested
Farmer Gajendra Singh's family demands CBI probe, job and memorial
Shouldn't have gone ahead with the rally, says Kejriwal