15 people booked for assaulting elderly Sikhs
Comments::DISQUS_COMMENTS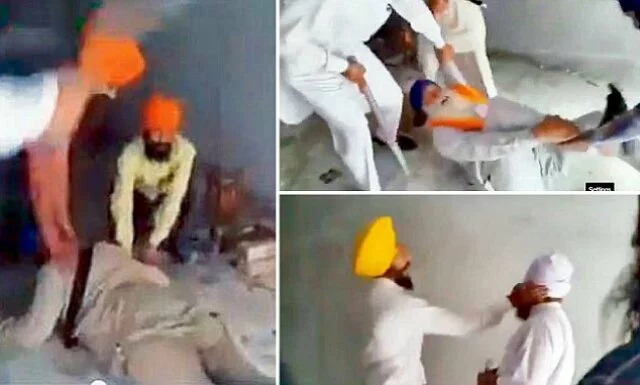 Kapurthala: Police in Punjab's Kapurthala have booked 15 people on charges of thrashing three elderly Sikhs who had recited the Guru Granth Sahib at a shrine (Jathera). The incident came to light when a video was circulated on YouTube and Facebook, showing a group of men beating up the elderly Sikhs. 

The men are allegedly members of the vigilante group Satkar Committee which works to 'ensure respect' for the Sikh holy book. The vigilante group is opposed to recitation of the holy book at any place other than a gurdwara.

In the video the elderly Sikhs are seen crying for help and begging for mercy. However, all of it fell on deaf ears. 

The incident took place on March 29 when the victims — Mahinder Singh, Gurmail Singh and Gurnam Singh — were allegedly kidnapped by Satkar Committee chief Sukhjit Singh Khosa and his acolytes. 

These men took the elderly Sikhs to an isolated place in Pamna village near Sultanpur Lodhi town, where they were beaten up mercilessly. One of the accused also filmed the incident and uploaded the video on YouTube and Facebook. One can hear a voice in the video, claiming that the elderly men were being punished for committing a sacrilege. 

"On March 27 we had gone to Sidhupur village near Shahkot to recite the Guru Granth Sahib. Two days later on March 29, when we were returning home, we were kidnapped and locked inside a room where the members of Satkar Committed beat us up, disrespected our turbans and threatened us. They also recorded the video," the victims told the police. 

Kapurthala police has booked the members of Satkar Committee under various sections of the Indian Penal Code and the Information Technology Act. 

"We have registered a case under sections 307, 382, 365, 342, 295A, 406, 148 and 149 of the Indian Penal Code against the head of Satkar Committee and others at the Talwandi Chaudharian police station. One of the accused, Karamjit Singh, has also been arrested," Sultanpur Lodhi DSP Davinder Singh said. 

Meanwhile, the Shiromani Gurdwara Parbandhak Committee (SGPC) chief Avtar Singh Makkar has slammed the members of Satkar Committee for taking law in their hands and has requested the police to take strict action against the accused. 

"SGPC will not allow any organisation to resort to such acts which would distance Sikhs from Sikhism. Satkar Committee had no right to violate the law," Avtar Singh Makkar said.