`Naach Basanti' UP cop forces girl to dance on gun point
Comments::DISQUS_COMMENTS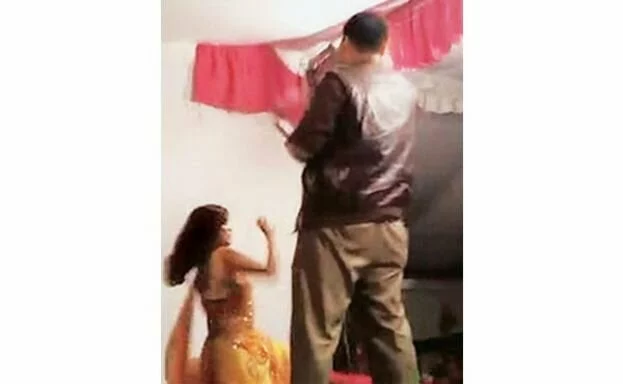 Shahjahanpur(UP): We have seen in movies of 90's that police officers make a visit to some larger than life houses where some girls including heroine (sometimes) dance in front of the people who sit in a circle and throw money at the dancers. What if similar kinds of picture do exist in reality?

In Uthar Pradesh which is noted for its criminal activities and recent communal violence a  police constable allegedly forced a dancer to continuously perform at gunpoint for an hour and showered currency notes worth Rs.30,000 on her at a function. The incident took place in Shahjahanpur town of UP.  On Monday night, the cop, identified as Shailendra Shukla, suddenly barged into the cultural function, climbed the stage, loaded his revolver in full public view and put it on the head of the dancer.

The horror played out on the stage as the constable picked up his loaded firearm whenever the dancer showed signs of stopping due to exhaustion. Shukla was also carrying currency notes in the denomination of Rs.100 and Rs.500 which he continuously rained on her, eyewitnesses said, adding that the constable was drunk and continuously threatened both the dancer and audience at the venue.

"The dancer was so terrified that she initially lost her balance on the stage. But fearing for life, she somehow regained her composure and followed his order," an eyewitness said, recollecting the ordeal. Superintendent of Police, Shahjahanpur, Ramesh Chandra Sahu suspended Shukla on Tuesday evening and ordered an inquiry against the constable. People used to refer Bihar as Jangal Raj but the latest incident in UP reminded the people of Gabbar Singh of Sholay. But the dialogue just needs to change a little `Jab tak teri pair challenge, teri saans chalegi'.







Related items
UP journalist killing: Five policemen suspended
15-year-old girl, burned by men who tried to rape her in UP