New office bearers of KIC selected in Dubai
Written by  Sushmith

Published in

NRI Form
Read 370 times
Comments::DISQUS_COMMENTS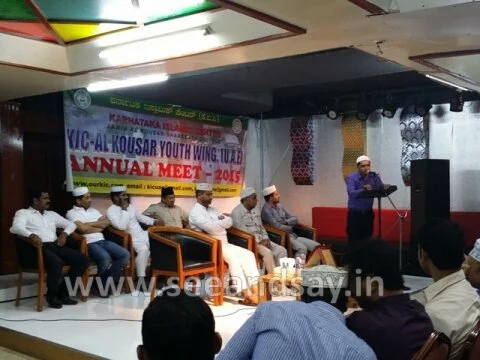 Dubai: The annual meeting of Kousar Al Shariyat college Kumbra functioning under KIC Al Kousar youth wing which is working under Karnataka Islamic centre UAE was held at Dera Rafi hotel recently.
Abdul Aziz Sorake president of the committee presided over the program. After reciting prayer Sayyed Asgar Ali Tangal, Honorary president of KIC said, no one can get the opportunities that a traveler gets in his life. The activities of KIC in helping needy and poor section of the society are really appreciable. Speaking after inaugurating the program Haji Mohiuddin Kuttidibba, president of KIC national committee said, the committee is very different from other organizations. Youth is the most useful time in the life span of a man. So everyone must support the good task of the committee and join hands together.
Ashraf Parladka who did the welcome speech explained the journey of KIC Al Kousar youth wing in one year and put forth the future projects of the organization.  
Janab Mohammed Neerkaje, the general secretary of KIC national committee explained about the need of the organizations in the present situation and relation with the KIC.
The memento and certificate was given to the officers of Al kkousar youth wing for their untiring work by President Abdul Aziz Sorake on behalf of President Haji Mohiuddin Kuttidibba, honorary president Sayyed Asgar Ali Kope, Treasurer Sulaiman Moulvi Kallega and other office bearers.
In his presidential speech, Abdul Aziz Sorake said, we have managed to reach the goal after meeting all the challenges that came in our way. He also urged the youth to join hands and strengthen the educational institution. He dissolved the present committee after thanking everybody for their generous support.  
Janab Abdul Razaq Bulleri took the responsibility of selecting the new office bearers. Rafiq Athur was selected as the new honorary president of the committee while Jabbar Baithadka was appointed as President. Ahmed Jabir Bettampady was retained as general secretary for the second term. Treasurer-Rafiq Mukve and Iftikar Adyar Kannur and Executive secretary- Nawaz BC Road.
Speaking after being appointed as the new president of the committee Jabbar Baithadka said that he will put his all strength to take the committee to a new height and also sought support from the other members.
Naushad Waizi Adyar Kannur, Samshudin Hanafi, Ashraf Khan Nanthoor, president of Dubai committee, Haneef Aryamoole, president of Abudabi committee,
Abdul Razaq Manila, president of Sharjah committee, Badruddin Hentar, Abdulla Naimi president of Naif committee, Nasir Mangilapadav spoke their thoughts on the occasion.     
Related items
Iftar party by KIC to be held on July 3
City of gold to get its shine back
Students must concentrate on education: Premnath K
Dubai Crocodile Park construction work to begin next month