Dr. B.K. Yusuf re-elected as the President of Bearys Cultural Forum
Written by  Sushmith

Published in

NRI Form
Read 281 times
Comments::DISQUS_COMMENTS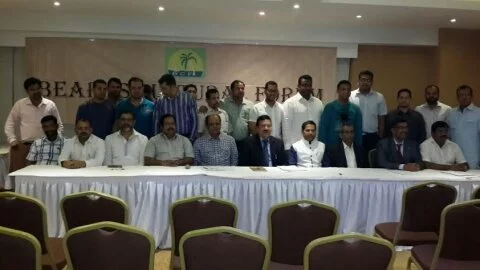 Dubai: Bearys Cultural Forum (BCF) conducted its General Body Meeting at the Usmania Hotel Banquet Hall in Dubai, UAE.  The BCF has entered into the 14th year of operations in the United Arab Emirates and India.  The AGM started with the Quran Recitation done by Mr. Ashraf Satikal.  Dr. B.K. Yusuf, the President of the BCF presided over the General Body Meeting. 

Dr. B.K. Yusuf thanked almighty Allah for blessing this great social platform like BCF through which Bearys have become successful with love and affection throughout their life.   Compassion, concern and charity are the hall mark of the BCF said Dr. Yusuf.  He also mentioned that BCF stands for these human values.  The Islamic Doctrine of "YADULLAHI ALAL JAMA'A" means where there is Unity, Allah's blessings will always be there.  Dr. Yusuf mentioned that the main strengths of BCF are coordination and unity amongst its members.  He thanked all the members and said that members have maintained great trust in him and BCF.  Dr. Yusuf said that "United we stand Divided we fall" – may Allah bless us with unity to stand as one in noble charity works of BCF and take BCF to new heights in the arena of social service.  Dr. Yusuf also stated that BCF has the fascination of maintaining the benchmark and also the highest possible standards in doing its social activities.  Dr. Yusuf mentioned that the new committee will continue its legacy of BCF as one of the most dynamic and professional social body with its quality oriented approaches in managing its social activities. 

The Hon. General Secretary Dr. Kaup Mohamed  read the minutes of the meeting for 2013 and 2014 and  same was confirmed by the General Body Members.  Dr. Kaup apprised the social activities done by BCF in the UAE and India.  He mentioned that BCF primarily conducts Students Scholarship function every year whereby more than 650 poor students are issued scholarships in Mangalore.  He mentioned that BCF is concentrated on issuing scholarship which leads to a platform for bringing up the poor family in terms of their status, livelihood and education.  Dr. Kaup mentioned that till today in the last 12 years, BCF has issued scholarship to more than 8000 students.   Dr. Kaup further mentioned that, BCF is conducting Iftar party every year in Dubai which is normally chaired by Mr. Abdul Lathif Mulky and his team members.  Similarly, he mentioned that BCF conducts every year sports festival which has been chaired by various chair persons such as Mr. Razak Dewa, Mr. Saleem Althaf and Mr. Afeeq Hussain.  In addition to this, BCF also conducts bi-yearly Bearys get together function.  Dr. Kaup mentioned that this year BCF is going to conduct World Kannadiga Convention and Karnataka Investor Meet in Dubai, UAE which will be attended by the Chief Minister of Karnataka State. Dr. Kaup also mentioned that, BCF never forgets to felicitate dignatories and Ministers coming from India to the UAE.

Mr. Abdul Lathif Mulky, the Vice President, thanked all the members and read the list of items/gifts maintained by BCF for the year 2013 and 2014.  Mr. Ataullah presented the statement of accounts for the year 2013 and 2014.  Dr. Kaup, the interim Auditor presented the Audit Report of BCF for the period 2013 and 2014. 

Mr.M E Moolur , Vice president of BCF , in his speech, gave a brief introduction of BCF, emphasized about the importance of  mutual cooperation and  love. He  appealed the gathering to stay united under BCF and strive for the development of the society.

All the members of the Managing Committee for the year 2013 and 2014 were relieved and the platform was given to the AGM Chairman Mr. Abdul Lathif Mulky and the Election Officer Mr. Kisar and the Asstt. Election Officer Mr. Nawaz Kotekar to manage the election process for BCF. 

Dr. B.K. Yusuf, Dr. Kaup Mohamed and all the Vice Presidents thanked all the members for providing an opportunity to serve BCF in the year 2013 and 2014.  All mentioned that the strengths of BCF are its members who work day and night to serve the poor people of the society in the State of Karnataka in India.

The following members were elected to the Central Executive Committee and Ladies Wing Executive Committee for the year 2015 and 2016.

NAME
POSITION
Dr.B.K.Yusuf
President
Dr. Thumbay Moideen
Founder Patron - UAE
Mr. Mumtaz Ali
NRI Patron - Mangalore
Mr. B.M. Farookh
NRI Patron - Bangalore
 

 

M.E.Muloor
Vice President 1
Mr. Abdul Lathif  Mulky
Vice President 2
Mr. Abdul Razak Dewa
Vice President 3
Mr. Ameeruddin S I
Vice President 4
Mr. Afeeq Hussain
Vice President 5
Dr. Kaup Mohamed
General Secretary
Mr. A.R.Sajpa
JT Secretary 1
Mr. Rafeeq Mulki
JT Secretary 2
Dr. Kaup Mohamed
Internal Auditor
Mr. Athaullah GK
Treasurer
Mr. Nawaz Kotekar
JT Treasurer
Mr. Usman Moolur
Co-ordinator 1
Mr. Iqbal Mepha
Co-ordinator 2
Mr. Kisar
Co-ordinator 3
 

Mr. Hussain Sathikal
Executive Member
Mr. Ibrahim Dubal
Executive Member
Mr. Yakoob
Executive Member
Mr. Mohd. Riyaz
Executive Member
Mr. Rafique Putaka
Executive Member
Mr. Ameer Moideen
Executive Member
Mr. Aslam Karaje
Executive Member
Mr. Ashraf Joikatte
Executive Member
Mr. Hameed Bajpe
Executive Member
Mr. Iyas Chikamangalore
Executive Member
Mr. Gafoor
Executive Member
Mr. Taufeeq Halengadi
Executive Member
Mr. Taufeeq Ahmed
Executive Member
M.B.Akbar
Cultural & Entertainment Secretary
Mr. Saleem Althaf
Advisor
 
Sharjah Unit & other Emirates
Mr. Ashraf Ali Sathikal
President
Mr. Ibrahim Karnad
Secretary
 
Ladies Wing
Mrs.Mumtaz Zakir
President
Mrs. Shahnaz Sulaiman
Vice President
Mrs. Asiya M E Moolur
Secretary
Mrs. Zainab Usman
Joint Secretary
Mrs. Ayesha Ameer
Executive Member
Mrs. Tanzima Riyaz
Executive Member
 

Mr. Abdul Lathif Mulky, the Chairman of AGM, Mr. Kisar the Election Officer and Mr. Nawaz Kotekar the Asstt. Election Officer elected the above members to the new Managing Committee for the year 2015 and 2016.  Mrs. Mumtaz, the Ladies wing President also thanked all the members.  Mr. Abdul Lathif Mullky proposed vote of thanks  to the President and all the members who attended this General Body Meeting.

 



Related items
Sullia press club: Girish Adpangaya elected as new president
New office bearers for Agrar Darbalke Shri Balakrishna Bhajan Mandir
ICC president visits Kukke Subramanya
Pres.-vice pres. Posts reservations decided for Sullia