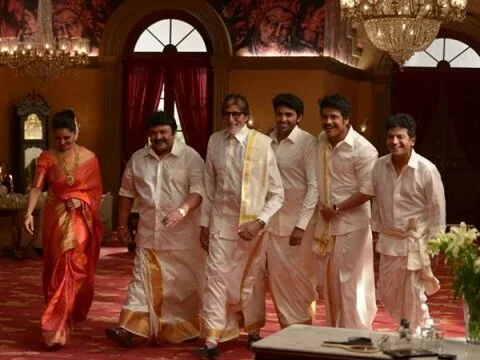 Manju Warrier Back With Big B And Southern Super Stars
The lady super star of M'town is all excited about her second innings with the one and only Amitabh Bachchan. Manju will share screen with Big B and southern stars Nagarjuna, Prabhu Ganesan, Vikram Prabhu and Shivaraj Kumar in Kalyan jewellers ad. The shared the photos posted by Amitabh Bachchan in his official Facebook page, with a small note. Quoting Manju: "Sharing this wonderful post by Bachchan sir. With the legends of India and I feel humbled to share the frame with them. Thanks to my dear Kalyan Family"

After a long hiatus, Manju Warrier made a comeback into silver screen with Kalyan Jewellers ad, in which she shared screen with Amitabh Bachchan, Nagarjuna, Prabhu Ganesan and Shivaraj Kumar. This time, Prabhu's son Vikram Prabhu is also added to the team. Manju Warrier is the only actress who has been featured in the highly popular ad campaign; which features the superstars of Indian cinema. She has been signed as the Kerala brand ambassador of the jewellery brand. Earlier,

Aishwarya Rai Bachchan was featured in another ad campaign of Kalyan Jewellers. Manju was also a part of that campaign and has shared screen with Aishwarya, for the ads. The actress signed the contract with Kalyan Jewellers in 2013; thus replacing her former husband Dileep from the ambassadorship. This led to a dispute between Dileep and the brand; followed by his revelation about their separation.



Published in

Entertainment