Runaway expats allowed to avoid jail and go home
Comments::DISQUS_COMMENTS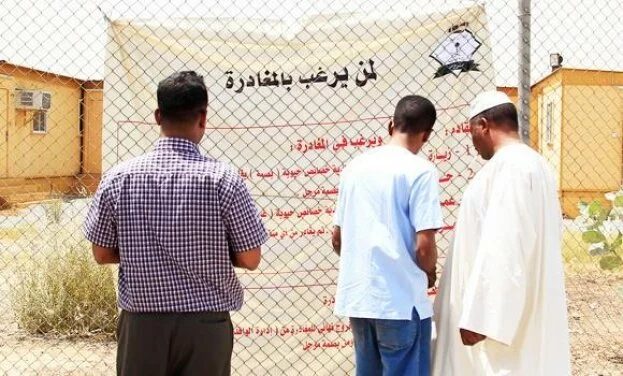 Jeddah: In a major concession for hundreds of expats classified as runaway or huroob cases, the government has announced that they can avoid jail and go home provided they have no criminal cases pending, settle outstanding fines, pay for their tickets, and have an undertaking from their consulates that they would leave in 72 hours.
These are the conditions contained in a circular sent out to all consulates by Muhammad Abdulwahab Nugali, representative of the Foreign Ministry at the General Services Center at Shumaisi, the deportation center near Makkah.
Arab News obtained a copy of the circular, dated Nov. 18, from Pakistan Consul General Aftab Khokher. He said this concession being granted by the Saudi government was first proposed by the Pakistani mission because of the many distressed workers from his country.
"Such cases will now be processed by the consulate," said Khokher on Wednesday. "Those who have been declared huroob will not have to spend time in jail as was the case in the past." Khokher said the government's conditions say the workers must be taken by their consulates to the Shumaisi center for fingerprinting. They should also have passports issued by their consulates.
Khokher said the consulate would now start registering these workers and find out if they are facing any criminal charges or have to pay fines. 
"Once everything is clear, we will take these workers in groups to the deportation center for fingerprinting and get their exit papers processed," he said.
Khokher described this as a major relief.
"Sometime back we had a meeting with passport officials at the deportation center and I pointed out that those caught up in huroob cases face immense difficulties and that consulates should be allowed to take up their cases just as with Umrah, Haj and visit visa overstayers," he said. "The authorities saw reason in our argument and have now given the consulates permission to take up huroob cases."
Khokher said that in the past there was no relief for huroob cases. Even during the previous general amnesties, huroob cases were not considered. 
An expatriate who was declared a runaway had to go back to his sponsor and police to sort things out. The consulate had no role to play. 
"This concession is therefore very significant," said Khokher.
Many expatriates, especially from South and Southeast Asian countries, had complained in the past about being declared absconders by unscrupulous sponsors eager to settle scores or obstruct lawsuits.
Once an expatriate was declared an absconder he or she could not go home through regular procedures. The Saudi police had to arrest and detain the person at the local deportation center.
According to experts, the huroob clauses in current Saudi law have been abused by some sponsors. Government rules allow sponsors to declare employees who have not shown up for work as absconders. The sponsors would register these workers as runaways at their local deportation center by providing their iqama and passport details, which are then registered on the Passport Department system.
Related items
Kuwait deports four expats for driving without licences
Expat hopes dashed as nationality rumor quashed
Expats' fingerprinting expedited
624 illegal expats held in Riyadh