I love railways, it won't be privatized: Modi
Comments::DISQUS_COMMENTS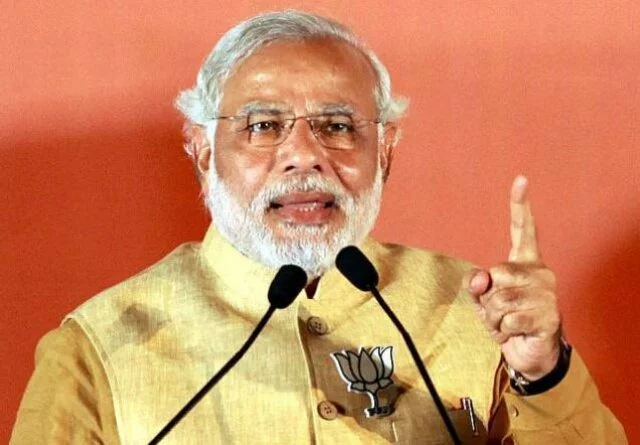 Varanasi: Prime Minister Narendra Modi said Thursday that his government did not wish to privatize the railways.

Speaking at a function at the DLW stadium here to lay the foundation stone for the expansion of a locomotive workshop, Modi said canards were being spread about the railways' impending privatization.

"A lot of rumours are being spread about the possible privatization but do not pay heed to them," the prime minister told a gathering of officers, railway employees and Varanasi residents.

The crowd responded by clapping.

Striking an emotive tone and referring to his childhood days when he sold tea at a railway station in Gujarat, Modi said nobody could love the railways more than him.

"We don't see railways only as a means to travel. We see it as the backbone of India's development," he said.

"What we want to do is to put more money for development of railways. This will help."

Modi said the railways formed a top priority for his government.

The prime minister added that his government would set up railway universities in all four parts of India.

"We have to take the railways ahead and through the railways we have to take the nation ahead."

He said that since becoming the prime minister in May, "most of the time I end up talking about railways".

Earlier, Railway Minister Suresh Prabhu said Modi had identified railways as a priority sector and that very soon a blueprint of action plan for the years ahead would be issued.

Modi happy over ghats, says world now listens to India

Prime Minister Narendra Modi Thursday expressed joy after seeing the spruced up ghats along the Ganga here, and said the world was now listening to India.

He also declared that the railways will never be privatized.

And in his bid to promote the Clean India campaign, Modi symbolically cleaned a narrow lane near the Assi ghat and nominated nine people as well as groups to take up the cause.

The nine include popular comedian Kapil Sharma, former police officer Kiran Bedi and Mumbai's famed dabba walas who deliver home-made lunch to thousands in that city.

The others are Nagaland Governor P.B. Acharya, danseuse Sonal Mansingh, former cricketer Sourav Ganguly, media barons Ramoji Rao and Arun Purie, and the Indian Institute of Chartered Accountants.

During his day-long visit to Varanasi, his Lok Sabha constituency, Modi inspected the progress of work at Assi ghat, which he visited Nov 8 while launching the Swachh Bharat Abhiyaan here.

He walked a few hundred metres towards the ghat, one of the more prominent ones along the Ganga, and thanked the people and NGOs for cleaning its banks.

"These banks, which had become heaps of mud, have been restored to their old glory. I thank all the people who did this work," a visibly pleased prime minister said.

Speaking at the Banaras Hindu University, Modi said the UN decision to declare June 21 as the World Yoga Day was proof that India's voice was now being heard.

He said he had requested the UN in September to declare a World Yoga Day.

"Within 100 days, 177 countries became co-sponsors to this proposal which itself is a world record," he said to thunderous applause.

This, he added, was a changed situation when whatever India said was taken seriously.

At a later function where he laid the foundation stone for the expansion of a locomotive workshop, Modi declared that his government was not privatizing the railways.

"Those who are spreading lies that railways is being privatized... this is not our thought or intention," he said, triggering clapping in the crowd of railway employees and others.

"We don't see railways only as a means to travel. We see it as the backbone of India's development. What we want to do is to put more money for development of railways. This will help."

He said railway universities would be set up in all four parts of India.

The prime minister paid floral tributes at the statue of Madan Mohan Malaviya, the founder of BHU who was nominated for Bharat Ratna only a day earlier.

He also hailed the erstwhile maharaja of Kashi, Vibhuti Narayan Singh, on his death anniversary.

Modi was delayed reaching Varnasi because of bad weather. When the crowds swelled and became restless at one place, he walked up to them and shook hands with some and waved to others. He apologized for the delay.

At the BHU, Modi also urged Indians to grab the global opportunities coming their way and said he wished to see India exporting good teachers to other countries.

Asking theatre and social groups to encourage people to be clean and spread awareness about issues like hunger and female foeticide, Modi said he felt ashamed to hear about children going hungry in India where even stray animals were fed.

He told schools in Varanasi to spread knowledge on the holy Hindu town's rich culture and personalities like Kabir and Tulsidas.

Earlier, at a function at Swatantra Bhawan in the BHU campus, Human Resource Development Minister Smriti Irani said several of the initiatives undertaken on the education front were Modi's brainchild.

Later, the prime minister laid the foundation stone of a Rs.110 crore Inter-University Centre for Teacher Education, launched the Pandit Madan Mohan Malviya National Mission on Teachers and Teaching and the Wifi connectivity of the entire BHU campus.

He also inaugurated a five-day cultural festival.