J&K govt formation: 'Trump card' in Mufti Mohammad Sayeed's hand, says Saifuddin Soz
Comments::DISQUS_COMMENTS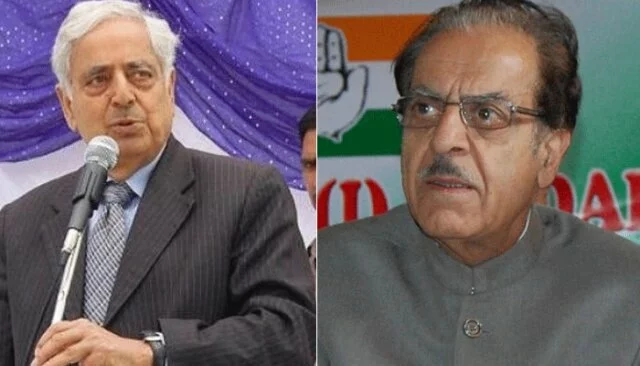 Jammu: Even as hectic politicking continues in Jammu and Kashmir over government formation, senior Congress leader Saifuddin Soz said on Tuesday that the trends are moving steadily in favour of PDP patron Mufti Mohammad Sayeed, adding that the 'trump card' is now in his hand.

"I am of the view that the atmosphere in the state is moving to Mufti Saheb's favour and he will adopt a course which will hopefully be characterised as historic by way of the results on ground," Jammu and Kashmir Pradesh Congress Committee (PCC) chief Saifuddin Soz told reporters here.

"The present situation has yielded a trump card in Mufti Mohammad Syeed's hand and I feel confident that he (Mufti) will use the opportunity very properly and advantageously," Soz added.

According to reports, the deadlock over government formation in the state may end soon, with both Peoples Democratic Party (PDP) and BJP insiders saying the two parties were close to striking an agreement with Mufti Mohammad Sayeed as the chief minister.

PDP sources said today that the two parties were close to giving the country's only Muslim-majority state a government after assembly elections produced a hung 87-member house.

However, details of discussions between PDP and BJP were not available but PDP leaders have said that they would not compromise on some issues concerning Jammu and Kashmir.

The PDP is clear that article 370 of the constitution, which gives special status to Jammu and Kashmir, cannot be revoked. The BJP has traditionally been opposed to this article.

Meanwhile, as per reports, PDP president Mehbooba Mufti will meet Governor NN Vohra over the issue of government formation in the state, even as her father and party leader Mufti Mohammad Sayeed continued consultations within the party.

On Friday, the Governor had invited the PDP president and BJP state unit president Jugal Kishore Sharma for separate meetings to hold discussions on formation of government in Jammu and Kashmir.

The Assembly elections threw up a hung verdict with PDP emerging as the single-largest party with 28 seats in the 87-member lower house.

BJP emerged as the second-largest party with 25 seats followed by National Conference at 15 and Congress with 12. Smaller parties and independents won seven seats.

So far no single party, or combination of parties, have staked a claim for formation of the government. PDP is holding intra-party discussions on possible alliances which the party can enter into to form the next government.