Aston Martin on Ice: Yes, It's a Real Thing
Published in

Automotive
Comments::DISQUS_COMMENTS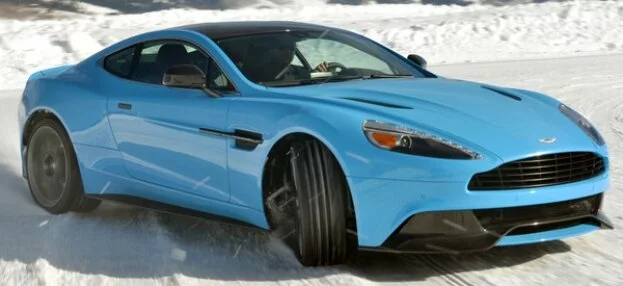 Don't get us wrong, we love Toy Story on Ice. However, if you're a fan of motorcars, that show won't provide much for you. That may or may not (leaning heavily on may not) be the reason that supercar manufacturer Aston Martin has created Aston Martin on Ice, a three-day program that lets you whomp on six-figure sports cars on hand-built ice tracks.
The program, which finished its first run early in 2014, will return to Crested Butte, Colorado, in the beginning of 2015. Crested Butte, a former mining town, was named the number-one ski town in 2014 by Powder Magazine. It's also the town that provides the backdrop for Aliens Vs. Predator: Requiem, but we doubt Aston Martin used that factoid when deciding on a location.
Either way, the main staple of Aston Martin on Ice is a 10-acre plot of land, on which multiple tracks have been constructed, requiring some 250 man-hours to complete. Drivers will first experience ice driving on the program's handling courses, which include a loop for braking and corner, a slalom, and a skid pad. Once drivers have worked up some confidence, the automaker will set them loose on a full ice circuit.
Of course, Crested Butte is more than just a big pile of snow and ice, so participants (or their significant others that may or may not have been dragged along) can get down on a whole load of activities that don't involve driving on ice. There are snowmobile and dog-sled tours available, along with the skiing and snowboarding that earned Crested Butte its award from Powder.
The 2015 program, which has an unspecified (read: expensive) price, runs in two waves: February 20th – 22nd, and February 22nd – 24th. You can send an e-mail to Aston Martin's fancy-sounding
This email address is being protected from spambots. You need JavaScript enabled to view it.
address to get more information, but as this is a very exclusive event, slots are filling up.
If you forgot to get your car-loving significant other a gift this holiday season, and you're willing to make up for that grievous error with a giant pile of cash, Aston Martin on Ice might be your best bet to knock the socks off an enthusiast that's close to your heart. Just make sure they put those socks back on; it's not exactly tropical in Colorado in February.