Twist in a tale: 'Sunanda and Shashi fought over Katie'
Comments::DISQUS_COMMENTS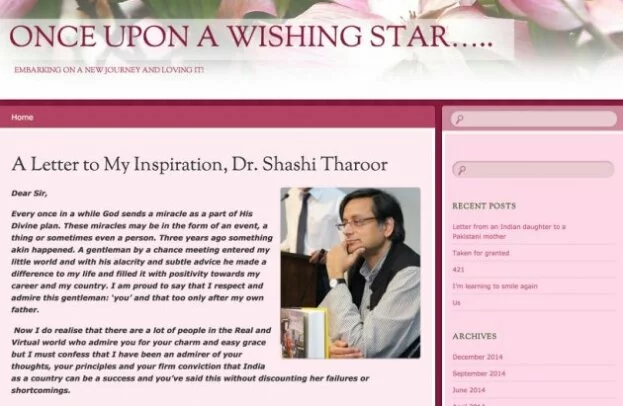 NEW DELHI: The Special Investigation Team's (SIT) probe into the murder mystery of Sunanda Pushkar Tharoor, wife of former Union minister Shashi Tharoor, has now revealed that a woman called Katie, over whom the couple reportedly argued, is actually a Thiruvananthapuram based author named Katherine Abraham.

Police sources told Mail Today that, after scanning Tharoor's Twitter account, investigators came to know that Tharoor was in touch with 24-year-old Abraham, who is also known as Katie. Tharoor, in fact, retweeted several of Abraham's tweets.

"With the help of Katie's Twitter account, SIT also accessed her blog and came to know that she was inspired by Tharoor to write a blog post titled 'Letter to my inspiration Dr. Shashi Tharoor'" the source added. "There is a strong possibility that she is likely to be questioned by the SIT in the coming days in connection with the Sunanda murder case," the police source said.

Meanwhile, BJP leader Subramanian Swamy on Wednesday also claimed on his Twitter account that Katie is actually Katherine Abraham. However, Swamy later tweeted, "My information is from the police. I made no such claim. I said Katie is a girl called Katherine, but will not identify her because she is not involved in the murder."

According to Abraham's social media profile, she is an author, an aspiring United Nations diplomat and she used #Tharooriyan— a hash tag to support Tharoor. She also claims that she is writing Tharoor's biography. A book called Silence of Love was also released by her. Interestingly, Katie and Pakistani journalist Mehr Tarar follow each other on Twitter.
A post on Katherine Abraham's website refers to Tharoor as 'My Inspiration'

It was through Tharoor's domestic help Narayan Singh that police first came across the name Katie. Narayan had told Delhi Police officers that Tharoor and his wife Sunanda had been fighting over a woman named Katie, days before Sunanda's death.

Mail Today tried to contact Abraham but she did not respond.

Meanwhile, sources told Mail Today that SIT investigators believe that someone close to Sunanda could have injected the poison into her body that led to her death. "It is a clear case of poisoning and we need to find out the motive behind this murder," the police source said.

Investigation into the case has so far revealed that Sunanda was restless and was clearly unhappy during her last days.

"There are some contradictory statements on her mental state as people close to Tharoor have told SIT sleuths that there was no problem in the couple's relationship. However, a lot of people we questioned said Sunanda was clearly very disturbed," a source said, adding that her brother Rajesh Pushkar told the police that his sister was happy in her life.

Sunanda had never complained against Tharoor, but she was a bit depressed due to controversies surrounding IPL and an ugly Twitter spat with Tarar, Rajesh had said.
Related items
Manisha Koirala to play Sunanda Pushkar in Oru Melliya Kodu?
Sunanda Pushkar murder case: Three key witnesses to undergo lie-detector test
Cops get forensics on Pushkar's Gadjets
Evidence in Sunanda Pushkar case was removed: SIT
Sunanda Pushkar case: Whats the truth?