Nerungi Vaa Muthamidathe Review
Published in

Entertainment
Comments::DISQUS_COMMENTS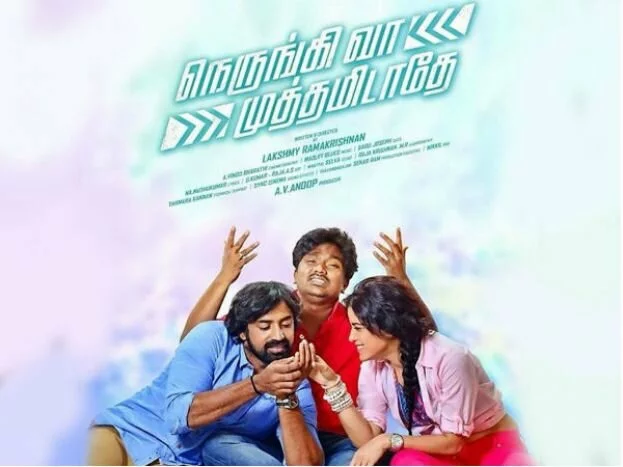 Lakshmy Ramakrishnan impressed everyone with her critically acclaimed Aarohanam proving that she has what it takes to be a good director. Apart from dishing out impressive performances in movies like Boss Engira Bhaskaran as Arya's mother, Lakshmy manages to catch everyone's attention by attempting a film in a genre that is rarely seen in Tamil films.
Nerungi Vaa Muthamidathe is a road film which has many interesting stories and loops with some expertly inserted songs that doesn't tamper the pace of a gripping narration from the director. Since the film houses stories of three different families, it jumps from present to past and then back to present which could make it a little difficult for the general audience to understand but that's where editor Sabu Joseph's editing skills are displayed. Songs and background music are in sync with the film for which Madley Blues has to be appreciated. Since it is a road flick, the movie doesn't calls for the usual running around trees duet and hero chasing heroine sequences which gives a refreshing look to the movie also such look is literally given by cinematographer Vinod Bharathi.

The film also subtly puts forward many social issues likes casteism, smuggling, gangrape, conflicts between parents and children and most importantly scarcity of fuel. It might not sound important, but the movie displays what shortage of fuel can do to a day's life considering how much we depend on fuel to take our life forward and yet fail to notice an issue as important as scarcity of fuel among others. The movie opens on a day when the state runs out of petrol and diesel paralyzing the life of its citizens. Shabeer who makes his debut, is portrayed as Chandru a lorry driver who's task is to drive a heavy vehicle from Trichy to Karaikal port. In his journey he comes across many characters whose stories are told in a string of flashbacks. Finally, story of the driver Chandru is revealed, who by then discovers that he is been caught for smuggling two thousand litres of diesel on a day when fuel could be sold at an auction earning him the ticket to be sentenced for an offence at the national level. At the end, all the knots are untied including some family affairs of the characters shown. Where and how it is done forms the rest of the story. Performances of all the actors are praiseworthy including Piaa Bajpai of Goa fame.
On the flip side of things, the movie finishes with some unanswered questions leaving its audience wondering about a few characters. One might also feel that there are too many stories told in a film that runs for just 1 hour and 44 minutes leaving very less screen space for its characters. Also the dialogues could've been better which would've made the film even more interesting. On the whole, Nerungi Vaa Muthamidathe is definitely a good attempt by Lakshmy Ramakrishnan whose efforts has to be appreciated for making a film which could possibly start a new trend in Tamil cinema. It might also attract mixed reviews based on its viewer's perception. Watch the movie for its fine technicalities and a brave attempt by the director.