'Swachh Bharat' seems to be the buzzword in Bollywood
Published in

Entertainment
Comments::DISQUS_COMMENTS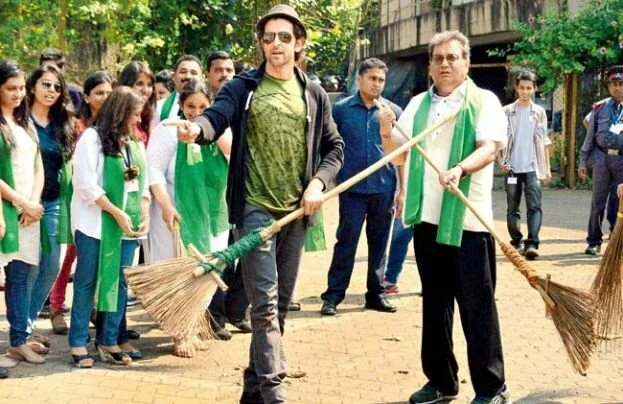 Mumbai: Prime Minister Narendra Modi's Swachh Bharat Abhiyan seems to have rubbed off on tinseltown. Literally. While several film stars have already set an example by wielding the broom and clearing their neighbourhood of sundry rubbish, the television fraternity as well as studios have also started taking the campaign seriously. A recent visit to the Film City Studios testifies that. During the shoot of Abhimanyu Singh's 'Bharat Ka Veer Putra — Maharana Pratap', contractual employees of the studio were seen sweeping the vicinity. Moreover, a handwritten paper pasted outside the sets read anyone littering the premises will be fined Rs 100.
Omveer Singh Saini, the public relations officer of Film City, says: "We have about 27 bins installed at various locations across the campus. By the end of the day, the organic waste which can be converted into fertiliser is segregated and the rest is sent to the dumping ground. We have a field supervising officer who regularly visits locations and also tells producers to keep the sets and the vicinity clean, failing which they may be penalised."
Saini suggests that quite a few producers have voluntarily taken the lead to clear their sets free of garbage and pasted proper notice outside the sets. "Rajshri Productions, which has just wrapped up the shoot of their serial, 'Pyaar Ka Dard Hai Meetha Meetha', clearly mentions a penalty for anyone littering, smoking or spitting on the sets," he adds.
Many other studios are also taking strict measures against litter louts. A Filmistan studio official informs us that film and TV producers are calling it a day only after the sets have been cleaned up. Shyam Sunder Purohit of Filmistan studio says, "We have always maintained our studio but after the Swachh Bharat Campaign was announced, we see the producers taking extra care to maintain the sets.
We are getting the stage and sets back in spick and span condition so there has definitely been a change. There is a growing awareness about clean surroundings." JD Majithia, producer of the serial 'Badi Door Se Aaye Hai', has his set located at Malad Malwani's Green Acre Studio and has employed sweepers on a shift basis.
He says, "Call it coincidence or fate but before the campaign started, I had already implemented a cleanliness culture on my sets. We don't penalise anyone but click pictures of the actor or unit member littering the area and circulate it within our group. The person feels embarrassed and does not repeat the mistake."
Been there, broomed that
Among the first celebs to have showed support to the Clean India campaign was Salman Khan, who was nominated by Modi himself to take the idea of cleanliness forward via social media.
Along with the unit members and co-stars of his upcoming film, 'Prem Ratan Dhan Paayo', Salman cleaned a village in Karjat where he was shooting and nominated about half a dozen people, including his close friend Aamir Khan, to follow suit.
Hrithik Roshan was spotted cleaning a street in Juhu following his meeting with Narendra Modi in Mumbai. He tweeted, "Swachhbharat I started cleaning my own surroundings and learnt so much.
Started with my lanes in Juhu. 2day I pledge 2 keep my home, my roads, my city, my country clean. I also take responsibility 2 teach n empower others 2 follow." Vivek Oberoi decided to clean Juhu beach after Cancer Patients Aid Association was nominated to participate in Swachh Bharat Campaign. The actor, who has been its brand ambassador for 12 years, tells hitlist, "I am excited and inspired to associate and support the Swachh Bharat Campaign. The campaign has become a movement of sorts and I am glad it has been initiated."
One even spotted a pair of newly installed steel dustbins outside Amitabh Bachchan's office, Janak. The actor even cleaned up garbage that was dumped on a road outside the studio where he was shooting for his quiz show, Kaun Banega Crorepati.
Related items
Bollywood actor Nawazuddin Siddiqui's father passes away
It's Out! Shahid Kapoor-Mira Rajput's first wedding selfie
Want to work with bollywood A listers: Sunny Leone
Yesteryears Btown actress Helen visits Mangalur