Golden star Ganesh to team up with Harsha for next?
Published in

Entertainment
Comments::DISQUS_COMMENTS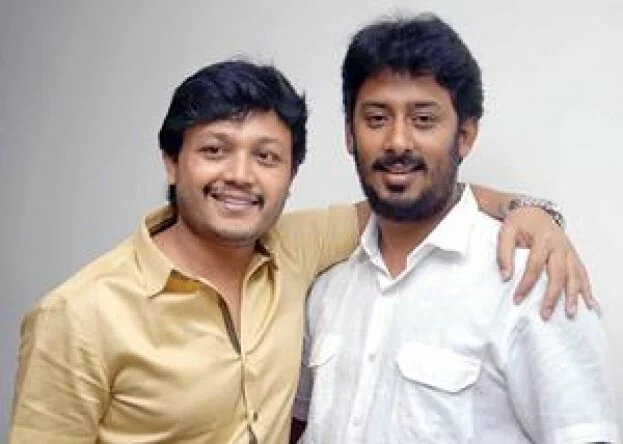 Bengaluru: It only takes the presence of two film personalities together for rumour mills to spin a new film. Choreographer-director Harsha's presence at the audio launch of Ganesh's new film Kushi Kushiyagi was therefore enough to kick off talks of the two making a film together. The two even went on animatedly discussing about taking the 'Hanuman' franchise of Harsha together. Harsha's film Bhajarangi with Lord Hanuman's name was a success. He is following it up with another film named after the Lord; Vajrakaya. Both the films are with Shiva Rajkumar. There were even funny takes on Harsha that he would continue to make 40 films with the Lord's name based on Hanuman Chalisa.

Earlier this week, at the audio launch of Kushi Kushiyagi, more than a few people were witness to Ganesh and Harsha talking about a movie in which the actor would have to sport an eight-pack action star image and having one of the names of Hanuman. But Harsha says it is only banter for now. "Everyone is pulling my leg about naming my films after Lord Anjaneya. Let me tell you that even with Ganesh it was a similar general talk. Absolutely nothing is concrete about it. Since Bhajarangi worked, I got to do Vajrakaya. It all depends on how Vajrakaya does at the box office." 

"Only 62 days of shooting are over for Vajrakaya. We still have to shoot for 28-30 days. Since I need to attract both parents and children to the film, it will have to wait for a summer release. I do not want to take a chance till the annual exams are over. I will not announce my next film till this one releases," the director added.
Related items
After Crocodile, Now Anaconda Pop Out Of Bengaluru's Water-Filled Potholes
Rape on 3 year old child shocks Bengaluru
B'day boy, girlfriend killed in gruesome road accident in Bengaluru
B'day boy, girlfriend killed in gruesome road accident in Bengaluru