Sonakshi Sinha's skips promotion for meeting with Modi
Published in

Entertainment
Comments::DISQUS_COMMENTS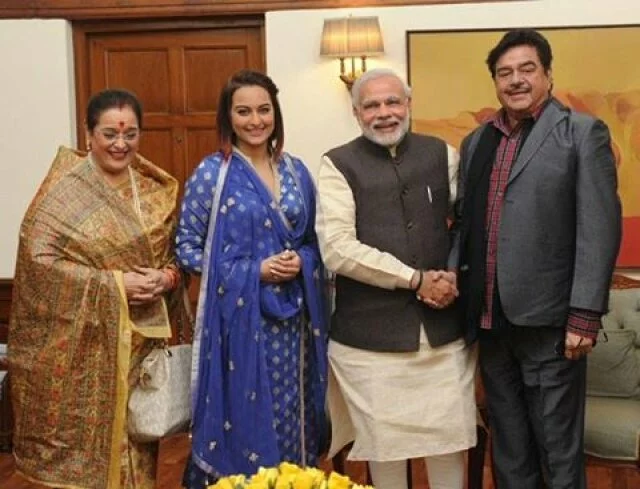 Sonakshi hands the invitation to the PM with parents Shatrughan and Poonam Sinha
Sonakshi Sinha's brother Kussh is marrying Tarunna, daughter of Subodh and Abhinanda Aggarwal, in what is perhaps one of the most hush-hush weddings in Bollywood. When prodded for details the usually affable groom-to-be turned mum, saying, "My wedding is a private affair. Sonakshi is an actress and she has 3 million followers on Twitter while I have only 1000. That should tell you the kind of person I am."

His star sister is equally careful not to reveal any details. Every query on the subject-from what she will be wearing, if she plans to dance to any of her of her popular hits, her equation with her soon-to-be-bhabhi to even the date and venue of the wedding is adroitly side-stepped. All that is known is that the Sinhas-Shatrughan Sinha, wife Poonam and Sonakshi-met the Prime Minister earlier this week.

"It was a personal visit and we as a family went to invite him for my brother Kussh's wedding. Whenever I have met him, the Prime Minister has been warm and cheerful. It was a wonderful meeting and he wished me well for the release of Tevar," Sonakshi told Mirror.

The actress was to visit Patna to promote the upcoming film. She had been there earlier during SOS: Son of Sardar but this would have been her first visit to her home state after the BJP and her father's landslide victory in last year's Lok Sabha elections. "But I wasn't able to go this time as we had to go meet Mr Modi on the same day. But Arjun (her co-star Arjun Kapoor) went there to connect with the people as Tevar has great potential in states like UP and Bihar because of its earthy appeal," she points out.

Sonakshi insists it is easy to relate to Radhika, her character, who is very "real". "I'm sure when people watch the film they will feel that they have met someone like her at some point in their life. I would really love for Modiji to see Tevar. I will ask him and other colleagues of my father in Delhi if they would like me to have a screening of the film for them," she says.

Buzz is, she's gearing up to play poet author Amrita Pritam in a biopic. Bring up the subject and the actress clams up again. "I haven't signed the film yet and only believe in speaking about films once signed," she says carefully. "It's a great subject and a great role for me. The producers will be the right people to make the announcement, as and when things are confirmed."
Related items
Desperate Congress wants power to remain concentrated with one family: PM Narendra Modi
PM Modi meets prize winners of Techno-Challenge 2015
Commander-in-Chief of Myanmar Defence Services meets PM Modi
PM should break his silence on farmers suicide: Janardhan Poojari