Mirchi Mandakki Kadak Chai: What's In Store?
Published in

Entertainment
Comments::DISQUS_COMMENTS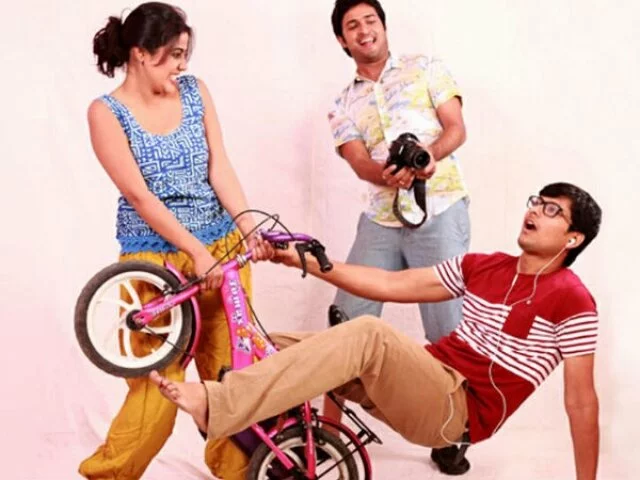 Mirchi Mandakki Kadak Chai is an upcoming movie in Sandalwood releasing tomorrow, Jan 23.  The movie stars newcomers directed by debut director Sanjotha. The movie is already making news in Youtube for its unique theatrical trailer and superhit album. Mirchi Mandakki Kadak Chai stars Badekilla Pradeep, Sachin BG, Apporva Bharadwaj and Namratha in the lead roles. 

We were lucky enough to get an exclusive interview from Mirchi Mandakki Kadak Chai cast and bringing to you the excerpts from the interview about the movie.

1. Voice Over Artist Badekilla Pradeep As A Debut Hero

Badekilla Pradeep who is well established as a voice over artist in ETV Kannada, has made his entry to Sandalwood through this movie. The aspiring actor is confident about the movie's success as he says, the story is all about a boy or a girl next door. He continued saying, "the film is a original story by a debutant, I am sure this movie will convey a good message to the viewers in a comical way". 

2. A Strong Connecting Story

Debut director Sanjotha has penned and directed the movie. The director has been successful in portraying a story which has a strong connection to every individual. The movie revolves around the negative and positive incidents which has a crucial role in an individual's life. 

3. Big Boss Kannada Director/ Back Stage Artist Apporva Bharadwaj As Heroine

Apporva Bharadwaj is a back stage artist who has earlier worked in the reality shows; Bigg Boss Kannada and Super Minute as an assistant director cum producer. The debut actress is playing an opposite character to her real life. She plays a village girl in the movie, who comes to Bangalore in search of her future.

4. A Best Music Album of 2014

Mirchi Mandakki Kadak Chai has already been highly appreciated for its music album. The title track 'Mirchi Mandakki Kadak Chai' sung by Vijay Prakash is a youth theme song. Rajesh Krishnan has also lent his voice for a romantic song in the movie. 

5. A Good Effort From New Comers

Overall, Mirchi Mandakki Kadak Chai is a complete effort from all newcomers. Don't miss the movie releasing tomorrow. Stay locked to this space for Mirchi Mandakki Kadak Chai's review.
Related items
Arrest warrant issued against Pooja Gandhi
20 sandalwood smugglers shot dead in Police encounter in Chittoor
No big releases in Sandalwood due to World Cup
Biopic of DK Ravi on the cards in sandalwood