Aamir Khan has joined My Right, My Responsibility themed Youth for Governance 2015.
Published in

Entertainment
Comments::DISQUS_COMMENTS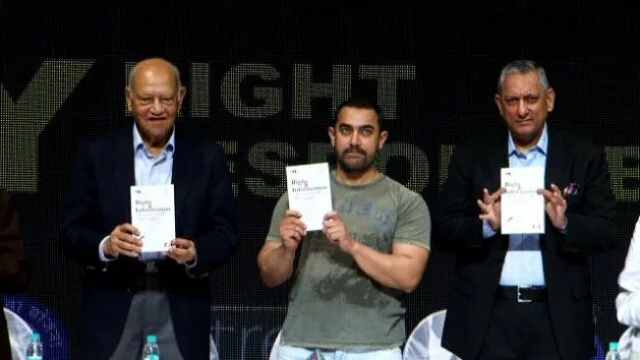 Always known to be a man who speaks his mind, and being assertive about every aspect of his life, Bollywood superstar Aamir Khan had a thing or two to say about the very controversial AIB Knockout Roast starring Karan Johar, Arjun Kapoor and Ranveer Singh, among others.

At yesterday's Youth for Governance 2015 against corruption event, he was asked by a member of the press about his take on the extremely popular, yet severely criticised show that was promoted on Youtube.

"I was deeply affected by that. I completely believe in the freedom of speech. But we have to understand that we all have a certain responsibility," he said in response.

"There was a lot of violence in that event. Violence need not be just physical, it can be verbal, it can be emotional. I am not impressed with "gaalis", that age has long gone. I am not longer 14, that I will laugh at someone giving a "gaali". I am not impressed by bad language," he continued.

Raising concerns over increasing corruption in the country, Aamir Khan has joined My Right, My Responsibility themed Youth for Governance 2015.

The actor, who is also called Mr. Perfectionist, was the Chief Guest of the program and gave a talk on Corruption and India's youth today.

"I am very happy about being present here. Mr. Rubero and his whole team are doing a fantastic job. This whole thing is an on going process and it takes a lot of time. And very few people take a stand to do it," says the 49-year-old actor
Tagged under
Aamir Khan
AIB
Youth for Governance
Related items
Rape charges on Peepli Live' writer, co-director Mahmood Farooqui
Detective Sushanth Singh: spying Aamir!!
Big B pours his heart over three Khan's
Aamir Khan Says No To Shankar's Enthiran 2!