Karishma Tanna On Comedy Nights With Kapil Without Upen Patel!
Published in

Entertainment
Comments::DISQUS_COMMENTS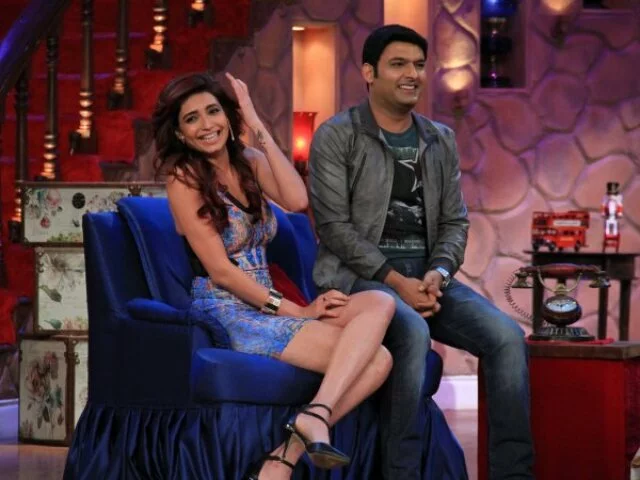 Bigg Boss 8 finalist, Karishma Tanna was seen having a gala time on Kapil Sharma's comedy show Comedy Nights With Kapil. The actress was on the show without her current boyfriend, Upen Patel. Karishma and Upen met and fell in love with each other on the controversial reality show, Bigg Boss 8.

The couple have been together from the moment the show ended and have even taken a trip to London for Valentine's Day. But, looks like the couple had to split up for a day since Karishma had to shoot alone for the popular Kapil Sharma show. 

The long-legged actress was on the comedy show recently to shoot an episode with Shoiab Malik and Harbhajan Singh. The actress seemed to have had a fun time on the sets, since she was seen laughing her lungs out. Kapil must have known the same reaction will not be coming out of Upen Patel, thanks to his habit of misunderstanding most of what is said in Hindi. Among the Bigg Boss 8 contestants, Gautam Gulati is one who should have been on Comedy Nights With Kapil. Hoping Gauti will grace the show soon enough.



Tagged under
Kapil sharma
Karishma tanna
Related items
Kapil Sharma, a comedian, actor and now a bollywood singer
Bigg Boss 8 Halla Bol: Karishma Tanna's Boyfriend Rushabh Choksi Finally Busted
Kapil Sharma And Priyanka Chopra On Their Fight Controversy
Upen Patel and Karishma Tanna , known to share a thick friendly bond may turn into a love-struck couple??