Kamal Haasan's Technician Wins Oscar
Published in

Entertainment
Comments::DISQUS_COMMENTS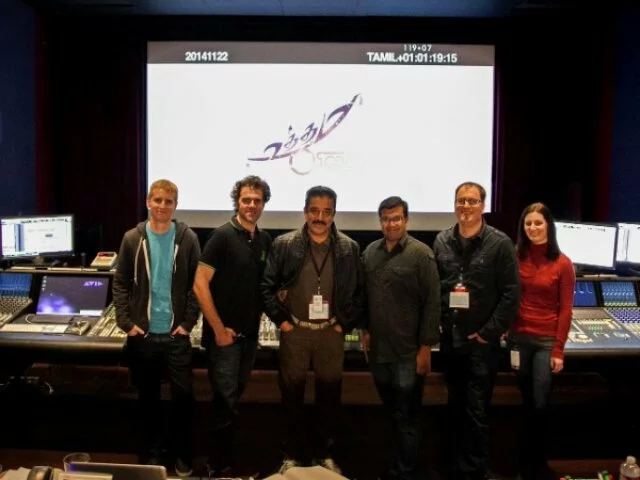 With Kamal Haasan's Uttama Villain audio  launched on 1st of March, there is some good news for those who are eagerly waiting to listen to the songs from the much anticipated Kamal film. 
Yes, the sound mixer who has worked in the Ramesh Aravind directorial movie has won an Oscar under Best Sound Mixing category at the recently concluded event.

Craig Mann, a Canadian film technician has done sound re-recording and mixing in Uttama Villain. Collaborating with Kunal Rajan who has worked in many Kamal Haasan movies as sound designer, Craig Mann made his debut in a Tamil film through Uttama Villain.

Now that everyone knows one of the best technician has worked in Uttama Villain, the film's songs and background score will be looked at with keen interest. Ghibran has composed music for the film. He has completed Grade 8 in both Piano and Music theory through Trinity College, London.

He has also obtained his degree in classical compositions and film scoring under Australian composer Lindsay Vickery at the LASALLE College of the Arts, Singapore. Looks like the quality of the songs and music from Uttama Villain will be nothing short of international. It is also said that the audio of the film will be launched in a grand manner with many actors from the movie performing at the event including the female lead Pooja Kumar. The film itself is expected to hit the screens all over the world on April 2nd. Having produced by Thirrupathi Brothers and Raaj Kamal Films International, Uttama Villain will most likely narrate the story of a film star.



Tagged under
Kamal Hassan
Osckar awards
Related items
My Next Film Could Put Me In Jail: Kamal Haasan
Spellbinding: Kamal Haasan To Solve The Missing Case Of Malaysian Flight MH370?
National Cinema Was Born In Chennai, Not In Mumbai Nor Kolkata: Kamal Haasan