Gudi Padva celebrations by Bachchan Couples
Published in

Entertainment
Comments::DISQUS_COMMENTS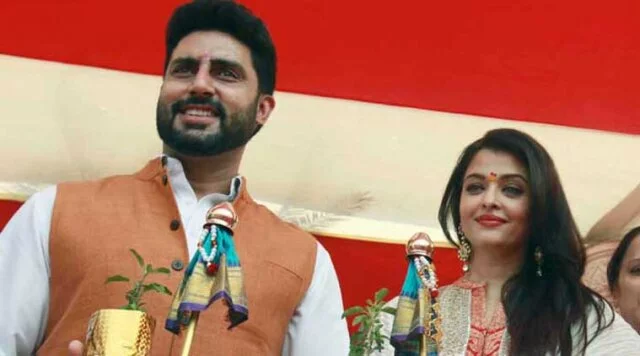 Former Miss World Aishwarya Rai Bachchan and husband Abhishek Bachchancelebrated Gudhi Padwa today as they were invited to grace an event in Mumbai. Gudhi Padwa is celebrated on the first day of the Chaitra month to mark the beginning of the New year according to the lunisolar Hindu calendar.

Aishwarya looked beautiful in an off white anarkali suit, while Abhishek was clad in white kurta pyjama teamed with saffron jacket.
Aishwarya and Abhishek were surrounded by fans gathered there and visibly had a good time.

Aishwarya had a smile on her lips throughout the event especially when she had to greet her fans. And there we saw a very cute gesture by the protective hubby Abhishek.
Tagged under
Abhishek Bacchan
Aishwarya rai
Related items
Ranbir and Abhishek train themselves in the midst of rain for All-Star football contest
Aishwarya's Jazbaa showcased at the 68th Cannes Film Festival
Racist remark: Jewellery company withdraws Aishwarya Rai ad
Don't compare me with Aishwarya in 'Dhol Baaje' song: Sunny