Chaali polilu completes 250 days: Video rights sold for whopping Rs. 11 lakh
Published in

Entertainment
Comments::DISQUS_COMMENTS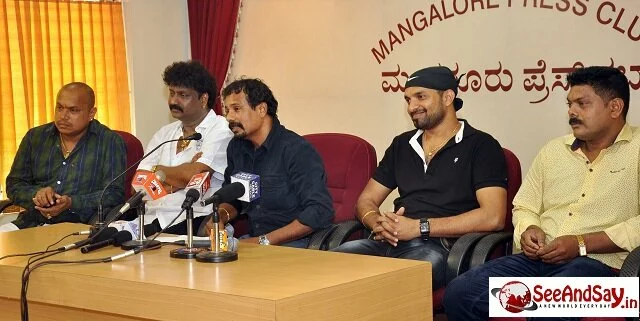 Mangaluru: Tulu movie Chaali Polilu produced by Prakash Pandeshwar under Jayakirana banner and directed by debutant director Veerendra Shetty Kavoor has created history in Tulu film industry by completing for 250 days in theatres.

The film made with a budget of Rs. 60 lakhs had received over whelming response from the audience from the very first day. As a result the film completed 75 days in 5 theatres and 100 days in three. The movie is still running in PVR multiplex in Pandeshwar and has completed 250 days on July 7. No regional film in the entire country has completed 250 days in PVR multiplexes said an officer of PVR cinemas, which is a matter of pride for Tuluvas.

The film also has been released in Bengaluru, Kasargod, Madikeri, Mumbai, Pune and even in Bahrain. Chaali polilu has bagged 8 awards in Tulu movie awards competition.

Video rights sold for highest rate

The video rights of Chaali polilu has been sold for a whopping Rs. 11 lakh. It is also a first time in Tulu film industry. A music house in Mangaluru has obtained the video rights of the movie.

Australia release

Chaali polilu will be released in Australia in the last week of July. The film will be re-released in Mumbai and Bengaluru.

`Dabak Daba Aisa' in the offering

 The shooting of new Tulu movie 'Dabak Daba Aisa' will commence in September. Businessman Rohan Montero will be producing the film and Prakash Pandeshar will don the director cap. Shashiraj Kavoor will write the dialogues for the movie and lyrics will be provided by Devdas Kapikad, Kadri Navneet Shetty, Veerendra Shetty, Shashiraj Kavoor. Young music director Rajesh will compose the songs. The entire caste of Chaali polilu will be seen in Dabak Daba Aisa.  

    


Tagged under
Chaali polilu
Dabak Daba Aisa
PVR
Related items
Chaali Polilu crew felicitated by Tulu Sahitya Academy
Chaali polilu storms Bahrain tuluvas with its laughter dose