Deppuniguthu Kishore Shetty, an experienced hand in Bhootaradane
Written by Vajra

Published in

People
Comments::DISQUS_COMMENTS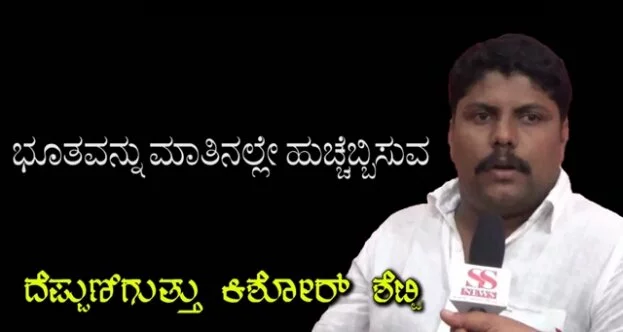 Surathkal: Bhootaradhane (worshiping the holy spirits) is an integral part of Tulunadu. The number of temples built for these Daiva's in Tulunad (Southern coastal belt of Karnataka) cannot be seen elsewhere. Anaul worships, Nemotsavas along with Agelu Seve (offering of food) is done like a ritual. The main part of these worships is the man who acts as mediator between the people and daiva. The act in local language is called Madipu. One among them is the leading `Madipu' telling man who encourages the holy spirits with his words is Deppuniguthu Kishore Shetty.
An expert in `Madipu'
Deppuniguthu Kishore Shetty has done special achievement in bhootaradhane. His specialty lies in extracting the background of the daiva and making it speak. Now in his thirties Kishore has done extraordinary achievements. A felicitation in World Tulu conference in Dharmasthala is the proof of his unmatched talent.
Kishore Shetty's presence is must in every bhootaradane in Mulky and surrounding areas. He says that attending these events improves knowledge. He also takes part in discussions, conversations and interactions regarding bhootaradane.
He explains about the present condition of Daivaradane:
If Daivaradane extinct then the reason for that is the people who worship these daivas. Daivaradane is an integral part of tulunadu, but due to some false allegations are made about the tradition. Some people even abuse persons who serve as daiva's servants. This is not a good development.
Let the name and fame of Kishore Shetty who is striving for the sake of Bhootaradane spread across the world. Seeandsay tam wishes him all the best in future.
Shashidar Bangera, Bellayaru
Last modified onTuesday, 09 December 2014 19:30