Fight against extremism among Bahrain's top priorities
Read 306 times
Comments::DISQUS_COMMENTS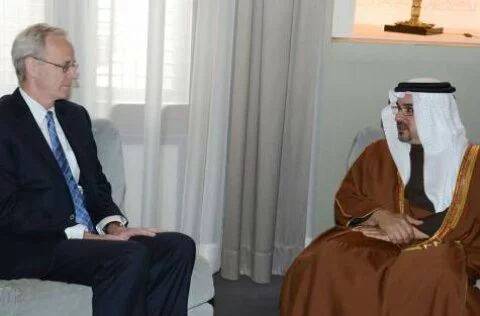 Manama: The fight against the emergence of extremist ideologies remains a top priority for Bahrain, Crown Prince Salman Bin Hamad Al Khalifa said.

"Bahrain's recognition of this important priority underpins its continued support to the international coalition's ongoing efforts to pursue lasting stability throughout the region, and further abroad," Prince Salman said as he discussed the latest regional and international developments with the newly appointed US ambassador to Bahrain William Roebuck and the Commander of the US Fifth Fleet, Vice Admiral John Miller.

Bahrain is an active member of the international alliance formed to fight and stamp out the menace of terrorism in the region.

Prince Salman told the US officials that a united stance against extremist ideologies was underpinned by the collective commitment to protecting basic human principles and the peaceful characteristics shared by all religions, the Bahrain News Agency (BNA) reported.
 
"Upholding this commitment has a direct impact on the region's efforts to ensure sustainable economic development for all people," he said.
For the Crown Prince, "the numerous milestones reached in the fight against extremism have ensured optimal coordination and collaboration among all allied nations."
In September, King Hamad Bin Eisa Al Khalifa stressed Bahrain's "readiness to assume its important and vital role, alongside brotherly and friendly countries, in the battle against terrorism in the region in order to eliminate all its forms and sources."

'Lured on religious grounds'

Bahrain's constant keenness to safeguard regional security and global peace was in continuation of the crucial role it has always played as a civilised country, a status that is internationally recognised, he said.

King Hamad cited Bahrain's participation in combating terrorism in Afghanistan, countering piracy in the Indian Ocean, UN-led monitoring operations, securing the flow of oil to the world, preventing the proliferation of weapons of mass destruction and promoting global stability and peace.

He also cited the kingdom's "honourable and historical role in the liberation of Kuwait in 1991."

The king said that Bahrain would continue to uphold the noble principles of justice and peace and that terrorists were hiding behind religious masks, but indeed had nothing to do with the Islamic precepts and values.

A former Bahraini information minister in September said that the "Bahraini youth who joined Daesh, Hezbollah and similar terror organisations had been lured on religious grounds."

"We are aware that plans aimed at destabilising the harmony and peace of the nation are being doled out under the cover of religion," Sameera Rajab said.
Related items
Leeladhar Baikampady to be honoured with 'Samaja Rathna' award
Girl goes missing from Nagori: Found asking for job in Mallikatta
Nine people injured as two gangs fight during GP election victory celebration
Chaali polilu storms Bahrain tuluvas with its laughter dose