Bahrain visa fee stays same for King Fahd Causeway travelers
Read 405 times
Comments::DISQUS_COMMENTS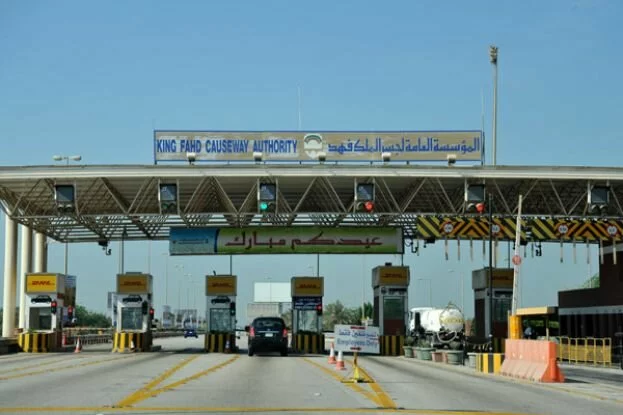 The General Directorate of Nationality, Passports and Residence in Bahrain has said that travelers entering the island nation through the King Fahd Causeway will not pay the new visa fees that came into effect Saturday.
Some 100,000 travelers passed through the causeway on average daily on the first days of Eid Al-Adha holidays, an increase of 20 percent on previous figures, according to official statistics.
The directorate said the increased fees will involve 102 countries, and that applicants can apply for the visa online. Citizens of another 66 countries can obtain entry visas on arrival at points of entry.
A source at the directorate was quoted by the local media as saying that the new visa fees came into effect Saturday, and that they now include some service fees.
"The amendment has been agreed upon between the border control, expenditure rationalization and income and productivity committees in the government," said the source. The source noted that the amendments to fees will not include those traveling to the kingdom via the King Fahd Causeway because this border route is considered a vital link between Bahrain and the rest of the GCC countries.
The source said the directorate focused its fees increase on foreign visitors, and that the increase has coincided with the recently increased work load at points of entry, as a direct result of the increasing number of people entering Bahrain, adding that it is still a modest increase in comparison to the visa fees of neighboring countries.
He noted that next year, Bahrain will announce the provision of a set of special services and facilities for tourists and offer them an even more attractive environment for tourism and investments.
Assistant Undersecretary for Passports and Residence Sheikh Ahmed bin Isa Al-Khalifa said in a press conference recently that as part of a policy to boost Bahrain's tourism and economic growth, the citizens of 102 countries would be able to obtain e-visa, while nationals of 66 countries will be granted visas on arrival. These countries include new EU countries and Latin America.
Al-Khalifa said e-visas are available to nationals of the countries with strong diplomatic and economic ties with Bahrain, and will be granted through a simplified and easy procedure. He added that the visa period will be extended to one month instead of the current two weeks, and could be further extended to three months if needed.
Tagged under
Bahrain
visa
King Fahd Causeway
Related items
Leeladhar Baikampady to be honoured with 'Samaja Rathna' award
Emiratis can enter 85 countries without prior visa
Chaali polilu storms Bahrain tuluvas with its laughter dose
UAE offers online visa facility to GCC Expatriates residents