Solar-powered plane Solar
Read 100 times
Comments::DISQUS_COMMENTS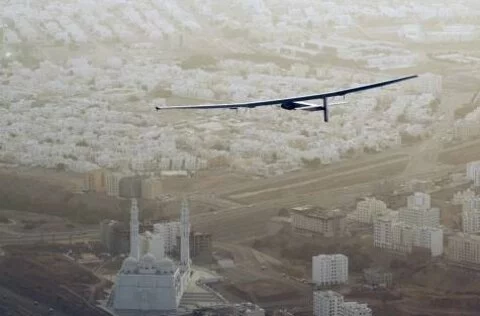 Ahmadabad:  A Swiss-made solar powered aircraft has landed in western India, completing the second leg of its historic round-the-world trip.
The Solar Impulse 2 touched down Tuesday at Ahmadabad airport in Gujarat state, about 16 hours after it took off from Muscat, Oman.

The world's first aircraft powered by solar energy was to remain in Ahmadabad for two days before flying to the holy city of Varanasi in northern India on Saturday.
The Swiss pilots, Bertrand Piccard and Andre Boschberg, will take turns at the controls of the aircraft during their 35,000-kilometer (21,700-mile) journey.
 


The five-month long trip intends to highlight the importance of renewable energy.
The aircraft's wings are covered by more than 17,000 solar cells that recharge the plane's batteries. It flies ideally at around 25 knots, or 45 kph (28 mph).
Tagged under
Aircraft
Solar Impulse
Gujrat
Related items
Lioness strays into temple, attacks two in Gujarat; rescued
Gujarat to Kanyakumari Padayatra
Gujarat people throng to see solar plane, take selfies with SI2
Solar-powered plane Solar