Two men riding motorcycles opened fire on Abdul Kareem Al Khiwani on Wednesday near his home in Sana'a
Read 150 times
Comments::DISQUS_COMMENTS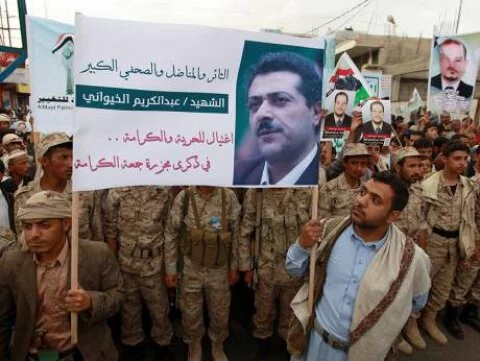 Sana'a: Al Qaida's Yemen affiliate claimed responsibility for the murder of an award-winning journalist turned top official of the Al Houthi militia, the group said on Thursday on Twitter.

The claim was made by Ansar Al Sharia, or Partisans of Sharia, which is linked to the extremist Al Qaida in the Arabian Peninsula (AQAP).

A brief statement on Twitter said two terrorists belonging to the group riding motorcycles opened fire on Abdul Kareem Al Khiwani on Wednesday near his home in the centre of Sana'a, before fleeing.

Al Khiwani was a member of the Revolutionary Committee of the Al Houthis that control Sana'a and had been head of the militia's media department.

In 2008 he was awarded the Amnesty International Special Award for Human Rights Journalism under threat.

Amnesty has denounced the "despicable killing of a leading journalist and activist," saying Al Khiwani had a history of being harassed for his "outspoken journalism and peaceful activism", and called for a probe.

The United States considers the Yemen-based AQAP the most dangerous branch of the global network.
Tagged under
Yemen
Al Qaeda
United States
Related items
After ISIS, al Qaeda's 'Jihadi John' makes appearance in terror group's video
Hadi loyalists seize Saudi border crossing in Yemen
Egypt and Saudi Arabia discuss manoeuvres as Yemen battles rage
India a global hero after evacuating nationals of 26 countries in Yemen