Riyadh police arrest 497 expat violators
Read 319 times
Comments::DISQUS_COMMENTS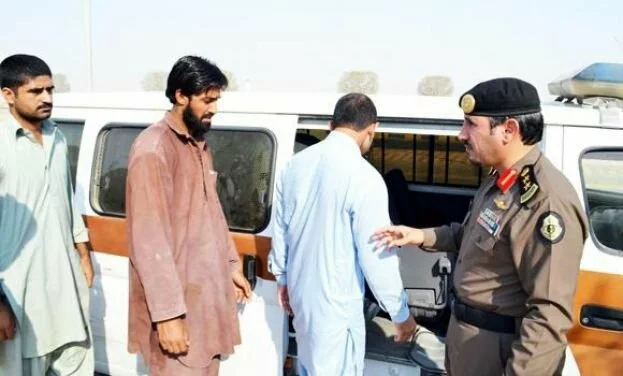 Riyadh: The Riyadh Police arrested 497 illegal workers, including 12 wanted men, in five districts during the weekend in the capital.Security authorities went on an inspection to apprehend illegal workers in five districts, including Manfouha, Malaqa, Shemeisi, Sulay and Masif upon directives issued by Riyadh Gov. Prince Turki Bin Abdullah. According to an official, those arrested were from different nationalities, but several were from African countries and Yemen. 
The operations were carried out on Friday and Saturday. Police were able to net 297 violators of local regulations on the first day alone. The Riyadh police had carried out the 48-hour exercise. "Most of these expatriates worked as truck drivers, construction workers, taxi drivers and vendors and others have been working as freelancers in various jobs," the official said, adding that most of the pavement hawkers at these districts were illegal workers and also they were engaged in hiring domestic aides to various household to earn extra bucks. Most of those who were arrested included runaway workers and those whose resident certificates (iqama) have expired. 
The Ministry of Interior had earlier advised all illegal expatriates in the Kingdom to correct their work and residency status before the end of the amnesty period, which fell on Nov. 1, 2013, or leave the country. The official pointed out that those arrested will be investigated and will be subject to fines and repatriation depending on the severity of their cases.
Related items
Send off ceremony of Mulky station police staff
Sniper shoots suspect in Dallas Police headquarters attack
Sexual assault accused arrested from Wenlock hospital
Increasing robbery: Police holds meeting with shop owners