Umrah package down to SR100 from SR250
Read 344 times
Comments::DISQUS_COMMENTS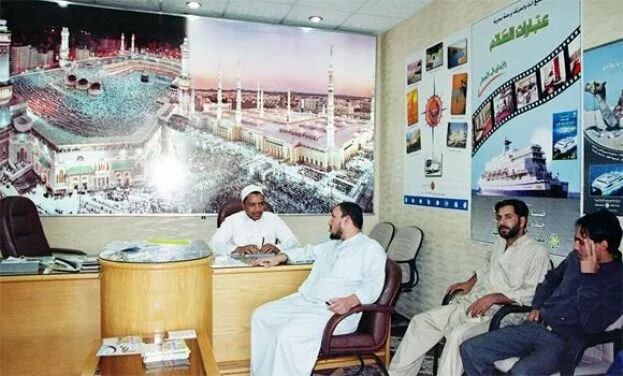 Umrah travel operators in the capital have drastically reduced the weekend pilgrimage package to SR100, down from the Haj season price of SR250.
This year, the Haj season coincided with the summer holidays and a large number of vacationers could be seen with their families in the holy cities of Makkah and Madinah during the season.
A return fare from Riyadh to Makkah by luxury coach, including accommodation in the holy city, will cost SR100 per pilgrim.
Accommodation can be upgraded to four-star standard on an additional payment of SR50.
A travel operator in the city said the weekend package to Makkah and Madinah starts at 4 p.m. from Riyadh on Thursday and ends midnight Saturday.
Each family is given a large room, while bachelors are accommodated on a sharing basis with three pilgrims in one room.
Children under 12 get 50 percent off the original price. Accommodation is provided in a three-star hotel.
There are nearly 300 Umrah travel operators spread out in the capital, largely concentrated in Batha. During the journey, the buses stop over at three points for the Maghreb prayer, Isha prayer and dinner and at the Meeqat in Taif for allowing the pilgrims to don the Ihram (the attire for the pilgrimage).
Local hotels in Madinah, in liaison with local tour operators, have arranged city tours to historical sites for the benefit of those who come to Madinah to visit the Prophet's Mosque.
Places of interest include Quba Mosque, the first mosque built by the Prophet (peace be upon him) in Madinah, the Qiblatain Mosque, where the Qibla was shifted from the Al-Aqsa Mosque to the Kaaba when the Prophet (pbuh) was leading the prayer, and the graveyard on the foothills of Mount Uhud, where soldiers martyred in battle during the Prophetic period are buried.
Meeqat points include Dhul-Hulayfah, 9 km from Madinah, Juhfah, 190 km northwest of Makkah, Qarn Al-Manazil, 90 km east of Makkah, Dhat Irq, 85 km toward the northeast side of Makkah, and Yalamlam, 50 km southeast of Makkah.
A senior official from the Ministry of Health said that it is advisable for Umrah pilgrims to take a flu shot before their departure to the holy cities.
He noted that the vaccination service is available free of charge for citizens, as well as residents in hospitals and public health care centers located throughout the Kingdom.
Related items
7 million Umrah pilgrims expected in next 2 months