Sushma Swaraj says welfare of expatriates is priority
Read 378 times
Comments::DISQUS_COMMENTS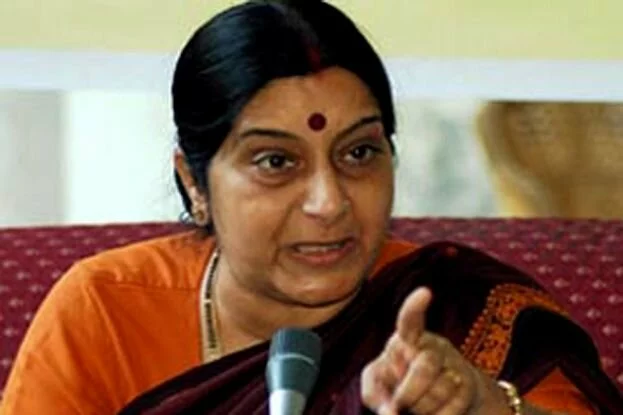 Abu Dhabi: External Affairs Minister Sushma Swaraj on Tuesday said welfare of Indian nationals residing abroad, particularly in the Gulf countries, is one of the top most priorities of her government. "We believe that the overseas Indians must be a part of the growth story of the nation," she said in an interactive session with the Indian diaspora here Tuesday. November 10-12 is her first visit to the UAE as external affairs minister. She said that her government in collaboration with the state governments has been proactively devising ways and means to address the concerns of the Indians living abroad.

"We have also been engaged with the UAE government in continuous dialogue on various matters concerning our community here," she said. "We have a Memorandum of Understanding on Manpower signed between the Ministry of Overseas Indian Affairs in India and Ministry of Labour in UAE." Sushma Swaraj said the Ministry of Overseas Indian Affairs has undertaken a number of measures to ensure the welfare of Indian community in UAE -- through the institution of Indian Community Welfare Fund (ICWF), setting up of Indian Workers Resource Centre(IWRC) and online information system regarding transportation of mortal remains.

Since the inception of the ICWF, more than 6,000 Indians have benefitted directly from it, she noted. "IWRC has attended to more than 65,000 telephone calls, conducted 200 awareness camps and provided more than 4,500 free counselling sessions since its establishment in November 2010," she told the Indian diaspora. "Recently, our embassy in Abu Dhabi brought out an advance copy of 'Guidelines for Indians' in limited numbers which I hope will prove quite beneficial for the Indians in UAE. More numbers of this booklet will be printed in English, Hindi and other regional languages."

 


Tagged under
Abu Dhabi
Sushma Swaraj
UAE
Related items
PM Modi visits Gulf state: UAE allots land to build first temple in Abu Dhabi
PM Modi meets NRI investors in UAE
PM Modi visits Sheikh Zayed Grand mosque in UAE
PM Modi visits Sheikh Zayed Grand mosque in UAE