3 sentenced to death for Riyadh, Alkhobar terror attacks
Read 261 times
Comments::DISQUS_COMMENTS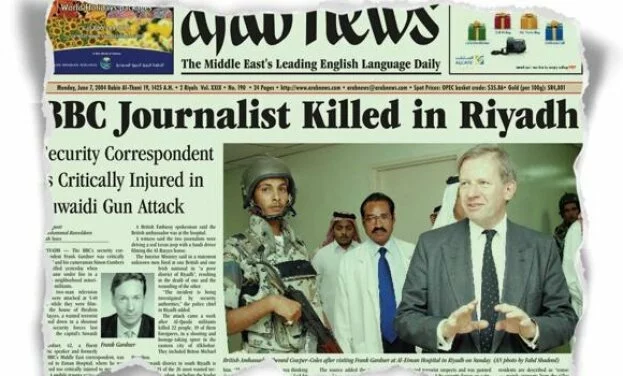 Jeddah: A special criminal court in Riyadh has sentenced to death three members of a terror cell for killing 20 people and injuring 35 others at the Oasis Residential compound in Alkhobar in the Eastern Province, and the Al-Mohayya complex in Riyadh in separate attacks. Five were each handed 30-year jail terms. The victims of the terror attacks included BBC photographer Simon Cumbers. His colleague Frank Gardner was critically wounded and is now wheelchair-bound. There were also Saudi civilians and policemen among the victims.

The first defendant, N. Boqami, chief of Cell 86, said Al-Qaeda had assigned him and others to storm the Oasis complex in 2004. They had been told that US forces had kidnapped and detained several Sunni Iraqi women during the 2003 invasion. However, he denied all other 27 charges against him, including storming into a facility of the APICORP and the Oasis compound carrying grenades, assault rifles and revolvers on May 29 and holding 45 hostages. The state contends that he was accompanied by Al-Qaeda members Turki Al-Motairi and Abdullah Al-Sobaie during the operation. 

The charge sheet accused them of killing 10 people of various nationalities including two industrial security officers and a cop. It was also claimed that they were party to the assault and murder of 12 and injuring 20 security officers in an encounter at the Waha compound. The state also accused Boqami of ascribing to the takfiri ideology — to declare other Muslims non-believers — questioning the Holy Qur'an, Sunnah and the creed of the early Muslim ummah. 

The state also contends that he rebelled against the ruler by switching his allegiance to Abdul Aziz Al-Muqrin, the chief of Al-Qaeda in the Kingdom, and taking up membership in an Al-Qaeda subsidiary called "Deterrence and Defense Cell," which undertook the task of spying on and assassinating civilian officials. 

The court accused him of killing a British man, tying his body to a car and dragging it along a road. The other charges include shooting and killing three Indians and a Japanese citizen, and murdering an Italian hostage and breaking the news to an Arabic television news channel. The court found that he had slit the throat of a Swedish citizen after shooting and killing him. His other victims included 12 others, among them Indian, Swedish, Egyptian, South African, Sri Lankan, and Filipino citizens, the court stated.

He was also accused of leading the terror attack at the Al-Mohayya residential complex in Riyadh in November 2003. The court found that his gang had accompanied two other Al-Qaeda members. They had thrown hand-grenades and opened fire at security guards at the complex to make way for an explosives-laden car. The car was disguised as a military vehicle and carried 300 kg of powerful explosives. They had detonated it, killing 17 people and wounding 122 others of various nationalities.
Related items
Saudi Prince Alwaleed bin Talal to donate entire $32bn fortune to charity
Air India crew member arrested in Jeddah
Splendid Karavali Parba celebrated in Riyad
Modi asks Delhi police chief to probe church attacks