Rains wreak havoc on Jeddah roads
Read 269 times
Comments::DISQUS_COMMENTS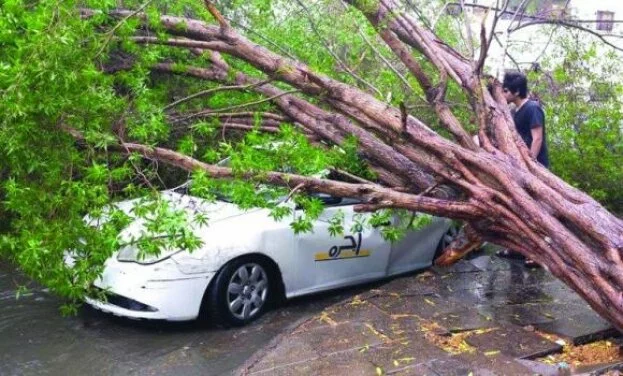 Torrential downpour lashed Jeddah on Friday night and Saturday morning, wreaking havoc across several areas and disrupting family plans for the weekend.
Rains caused flash floods as cars waded through deep waters and others found themselves marooned.
"We received 36 calls to pull out stranded cars, fix short-circuits and clear road blocks, caused by fallen walls or trees, between Friday night and Saturday afternoon," said Col. Waleed Abu Shanab of the Civil Defense on Saturday.
The Prince Majed Street tunnel at the Palestine Street intersection was closed by the Civil Defense on Friday night after water accumulated.
The tunnel, however, was reopened on Saturday morning following a drainage operation, according to the Jeddah Municipality and the Civil Defense. Officials also said that although the tunnel is now safe to use, the streets above are still inundated.
 The area and found that most shops along the Prince Majed Street, extending from Bani Malik to the Bawadi industrial area, were shuttered due to water at their entrances. A stretch on Prince Majed Street near Kababish, a popular restaurant in the Aziziah District, was one of the worst hit, with many drivers stranded.
Jeddah's famous Tahlia Street also witnessed several such incidents, while the situation south of the city seemed to take a turn for the worse on Saturday morning when water entered several homes in the University, Sulaimaniah and Guaiza districts.

 Hundreds of car breakdowns on road sides in low-lying areas in general and in localities situated along the Harmain Express Highway in particular.
Several motorists abandoned their cars on Friday night and returned to the scene in the morning with mechanics.
"We have deployed additional patrolling troops in various problem areas to cope with the rainy weather conditions," said Col. Zaid Al Hamzi, Jeddah Traffic police spokesman.
He added that they had also installed power generators to operate selected traffic signals in case of power failure during the rain.
Many of the offices reported a drop in employee attendance on Saturday.
Restaurants and recreational facilities along the Corniche also complained of heavy losses during the weekend after families avoided visiting the popular waterfront.
"Our hotel and swimming pool is fully booked on Fridays and Saturdays, but not this weekend," Ahmed Al-Khadai of Sail Island told Arab News.
"Graduate courses scheduled for Friday and Saturday had to be canceled in Jeddah, Rabigh and Khulais," said Shaer Al-Bugami, King Abdulaziz University spokesman in Jeddah on Saturday.
Several schools in Jeddah, including the International Indian School, the Pakistan International School, Hala and Gharnata, have declared a holiday on Sunday in view of the adverse weather conditions.