Iraq Kurds press fightback as top rebel reported killed
Published in

World
Read 499 times
Comments::DISQUS_COMMENTS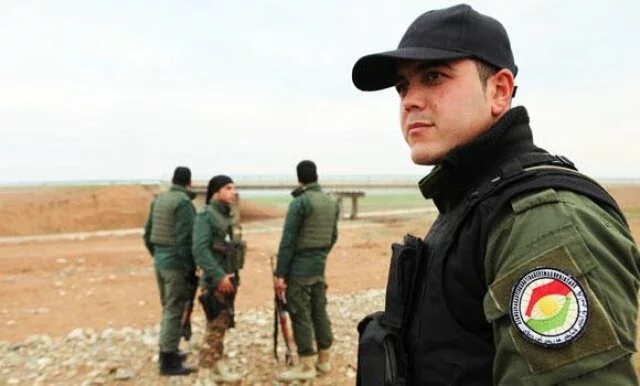 Iraq: Kurdish forces pressed their biggest offensive against the Islamic State group so far on Friday, buoyed by US reports that IS supremo, Abu Bakr Al-Baghdadi's top aide in Iraq has been killed.

Kurdish peshmerga forces were securing the surroundings of Mount Sinjar after breaking a months-old siege of the northwestern region while fighting was also reported near the city of Tall Afar further east.

The Pentagon said Thursday that US strikes had killed several top leaders of the group that proclaimed a "caliphate" straddling Syria and Iraq six months ago and rose to be the world's most feared militant organization.

"I can confirm that since mid-November, targeted coalition air strikes successfully killed multiple senior and mid-level leaders," spokesman Rear Admiral John Kirby said.

US officials said among those killed was Abu Muslim Al-Turkmani, who was Baghdadi's deputy in charge of Iraq and would be the most senior IS leader to fall this year.

Kirby said strikes against the group's leadership were disrupting the militants' "ability to command and control current operations against" Iraqi federal and Kurdish forces.

The leaders of autonomous Kurdistan described the operation they have spearheaded since Wednesday as the most successful so far against the militants.

After the US-led coalition paved the way with some 50 air strikes, around 8,000 peshmerga reclaimed some 700 square km in the Zumar and Sinjar regions in two days.

Late Thursday, they reached Mount Sinjar, where thousands of fighters and civilians from the Yazidi minority had been besieged for months.
"The peshmerga have liberated around 70 percent of the areas around Mount Sinjar, but the southern part of the Sinjar region is still under IS control," said Faisal Saleh, a Yazidi who has been stranded on the mountain with his family.

"The peshmerga are currently offering assistance to those who need it the most and they are planning to take them to Kurdistan but that hasn't happened yet," he told AFP by telephone.Khalaf Shamo, a Yazidi fighter also on the mountain, said the militants were destroying positions before withdrawing.

"We can see IS fighters blowing up houses in Sinuni and Khan as-Sur, we can see it clearly," he said, referring to two villages north of the mountain.

Mount Sinjar in August saw one of the most dramatic episodes of the six-month-old conflict in Iraq when tens of thousands of Yazidis were trapped there without food nor water.

Fears of a genocide against the small Kurdish-speaking minority were one of the reasons US President Barack Obama put forward for starting an air war against the militants.

The peshmerga also closed in on Tall Afar, a large city from which huge numbers of Shiite Turkmen were displaced when IS fighters attacked in June.

But residents said the Iraqi army's elite counter-terrorism unit, known as the Golden Brigade, was leading operations around the city.
"There's fighting going on, it started last night. I can hear shooting and explosions not that far away even as we speak. I can sometimes hear fighter jets," said Abu Hussein, a 26-year-old who was a teacher before the militants offensive.

"Where I live, in the Kasek neighborhood of Tall Afar, I can see many IS members preparing to flee the city," he said. According to a US military statement, two of the five air strikes carried out by coalition warplanes on Thursday targeted IS vehicles near Tall Afar.

The Iraqi portion of the militants' caliphate has shrunk in recent weeks, with central government troops and Shiite militia making significant gains in the east of the country and south of Baghdad.

Kurdish officers have said the latest peshmerga-led operation forced many IS militants to seek refuge across the Syria border or in their main hub of Mosul, Iraq's second city, around which they have been building berms and trenches.
Related items
Passenger train derails in UP 6 killed, over 50 injured
Women killed in road accident
Marriage party vehicle falls into gorge:8 killed, 14 injured
Iraq says Islamic State militants 'bulldozed' ancient site