Online visit visa service welcomed
Read 354 times
Comments::DISQUS_COMMENTS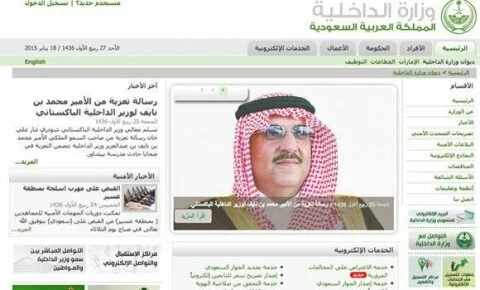 Expatriates have welcomed the Ministry of Interior's decision to start an online family visa service, saying it will indeed help a huge number of foreign workers to bring their family members to their second home hassle-free.
In a significant move in this direction, the MoI will launch an online appointment service on Sunday, which will be provided by the General Department of Expatriate Affairs (GDEA) to facilitate procedures for beneficiaries of services provided by the ministry and its sectors.
According to an MoI official, the beneficiaries can visit their e-portal (
www.moi.gov.sa
) and click on option "family bringing" and make an appointment online. Then the applicant can visit the selected administration in the Makkah, Riyadh and Eastern regions to complete the procedure.
Naeem Jameel, a Pakistani expatriate who works here as marketing manager, said Saturday: "It is indeed a good move as Sunday onward the procedure will be more user-friendly and the applicant will be able to make an online appointment instead of going in person to the passport department or the MoI."
Abdullah Ahmad, an expat worker from Sudan, said: "This is great news that we have been awaiting for a long time and will bring joy to all expatriates as it involves hassle-free service; you continue with your daily routine seeking online appointment from home or office."
Arif Anwar, an Indian national who works as a senior technician in Alkhobar, was also happy over the decision and expressed hope that the MoI will start providing the same service for a permanent family visa, too.
"It will help curb bribery and eliminate agents charging hefty amounts to ensure the applicant gets a visa for their family," he added.
Mohammad Nasir, a Bangladeshi worker, says it will not only help expatriates but at the same time reduce the workload of the Passport Department as well.
"I really appreciate this move as it will save a lot of time and headache for obtaining a family visit visa for expatriates," he said.
However, he also pointed that the family coming on a visit visa should be allowed to perform Umrah.
Saifullah, a Filipino who works as an accountant, described the move as good news. He, however, suggested that in the case of rejection of the request, the visa issuing authority should also mention the reason why the visa request was turned down so that corrective steps could be taken the next time an application was made.
"Some of my friends and I of different nationalities applied for visit visas for our family members several times but they were turned down. Each time the message received said, "Ministry apologizes to accede to your demand." How would one know why it was rejected unless informed appropriately?" he asked.
Related items
Saudi Arabia executes four men
Emiratis can enter 85 countries without prior visa
Pakistani man abusing PM Modi and Indian Army goes viral
5-year resident identity card for expatriates in October