Expat biometrics deadline ends
Read 303 times
Comments::DISQUS_COMMENTS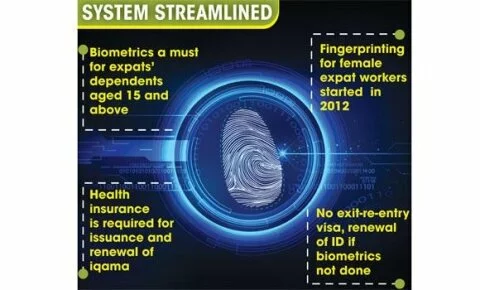 The Passports Department has rejected a media report claiming that it had extended the deadline for the registration of expatriates' biometric details and health insurance for their dependents.
The deadline remained Wednesday, Jan. 21, and not April 1, said Khaled Al-Saikhan, a senior passport official. This is mandatory for all expatriates using the department's services, including exit and re-entry visas, he said.
Speaking to Arab News, Al-Saikhan, director of IT at the department, said the reports are wrong. "I don't know what was published in the media but I can tell you for sure that it has come into effect today, Wednesday," he said.
A local newspaper on Wednesday reported that the deadline for the registration of biometrics had been extended to April 1. The paper quoted Lt. Col. Ahmad Al-Luhaidan, spokesman of the department.
Al-Saikhan said health insurance is mandatory. "The issuance or renewal of iqamas of the dependents of expatriates will be done only when their insurance policies are submitted through the Health Insurance Council," he said.
He said the Passports Department introduced this condition because of changes in the law. He said expatriates can expect speedy services if they abide by the new regulations.
"We have carried out this assignment systematically and gradually, by aligning the issue of iqamas for newcomers at airports with the registration of their fingerprints," said another passport official.

He said the department had introduced the measures gradually over the past three years because it did not want to disrupt the lives of citizens and expatriates. This is the final phase of that process, the official said.
The department has linked fingerprint registration with key services, including the issue of re-entry visas, change of profession, and information transfers. Fingerprinting of expatriate women employees was first introduced on March 31, 2012.