Pakistan is ready to defend Saudi Arabia's "territorial integrity"
Read 157 times
Comments::DISQUS_COMMENTS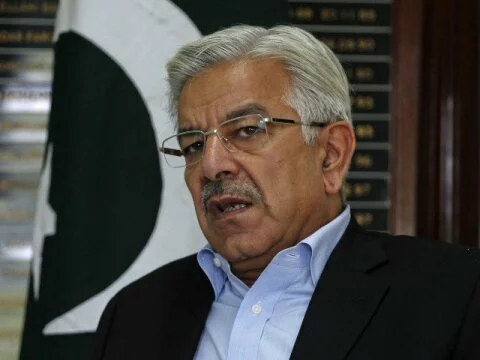 Islamabad: Pakistan is ready to defend Saudi Arabia's "territorial integrity", but has not yet decided to join Riyadh's coalition fighting Yemen rebels, the defence minister said on Friday.

Saudi Arabia began air strikes in Yemen on Thursday to defend the government of President Abd Rabbo Mansour Hadi from advancing Al Houthi rebels.

Pakistani Defence Minister Khawaja Asif said the country would defend Saudi sovereignty "at any cost," but appeared to rule out any immediate Pakistani participation in the fighting, which has so far been confined to Yemen.

"We don't want to be part of any proliferation, we will try to contain it," Asif told parliament, adding that there was concern it could fan sectarian tensions in Pakistan and the Muslim world.

The Saudi ambassador in Washington said on Thursday that Pakistan was among 10 countries ready to join a coalition to protect the Yemeni government.

Pakistan is a long-standing ally of Saudi Arabia with close military ties, but Islamabad has not yet committed to the operation, which has drawn strong criticism from its neighbour Iran.

Asif said Pakistan's "only pledge is for the territorial integrity of the Kingdom of Saudi Arabia".

"God forbid, if there is any threat to the sovereignty or territorial integrity of Saudi Arabia, Pakistan will defend it at any cost," he told lawmakers.

Sectarian fears

Saudi Arabia has said it is ready to do "whatever it takes" to protect Hadi's government, but Tehran has slammed the intervention as "a dangerous step".

The White House has voiced concerns about reports of Iranian arms flowing into Yemen and there are fears of the conflict turning into a proxy war between Iran and Saudi Arabia.

Like Saudi, Pakistan has a majority Sunni Muslim population, but around 20 per cent of its citizens are Shiite — the world's second-largest Shiite population after Iran.

Sectarian violence, mostly by Sunni hardline militants targeting Shiites, has risen sharply in Pakistan in recent years.

A suicide bomber last month killed 61 people at a Shiite mosque in the southern district of Shikarpur. At least 1,000 Shiites have been killed in the country over the past two years.

Defence Minister Asif said Pakistan's recent experience showed the danger of sectarian strife.

"We are not and will not fan any conflict that will divide the Muslim world on sectarian lines," he said.

"We will not be part of [such a] conflict, especially when the fault lines are present in Pakistan and we do not want to disturb those fault lines."

Saudi-Pakistan military ties go back decades and Riyadh, along with the US, funnelled millions of clandestine dollars through Pakistan in the 1980s to fund the Afghan mujahideen's fight against Soviet occupation.

Pakistani Prime Minister Nawaz Sharif has close ties with the Saudi royal family and was hosted by the kingdom when he fled a military coup that abruptly ended his last term in power in 1999.

But any enthusiasm in Pakistan for helping such a close ally will be tempered by fear of alienating Iran and of fanning sectarian divisions at home.

Sharif met top defence and military officials late on Thursday and announced a delegation would be sent to Saudi on Friday to assess the Yemen situation.

But this mission has now been delayed, with Asif telling parliament they would wait for the outcome of a two-day Arab League summit in Egypt this weekend.
Tagged under
Pakistan
Saudi Arabia
Yemen
Related items
Pakistan rules out inviting Jammu and Kashmir Assembly speaker
"I came here to kill Hindus" tells Pak terrorist arrested by police in J&K
Pak cricketers needs to play India if they want to perform under pressure says Inzamam
Saudi Arabia executes four men