Expats manning mall's women-only shops held
Read 466 times
Comments::DISQUS_COMMENTS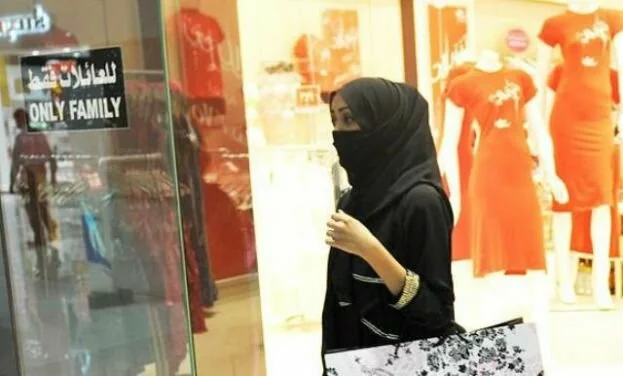 Jeddah: In a major crackdown, the Labor Ministry launched on Tuesday an inspection campaign targeting a leading mall in east Jeddah where expatriate men were engaged in selling women's accessories.
The campaign is in line with the implementation of the third stage of the feminization of women-only stores in Jeddah. The mall, housing a large number of women's accessory shops, is dominated by Bangladeshis and Yemenis, according to sources.
Inspection teams, backed by security forces, clamped down on the mall and found scores of men engaged in jobs meant for Saudi women. The teams also found a large number of expatriates doing jobs contrary to the profession mentioned in their iqamas."We won't spare any mall or shop employing expatriate men to sell women's accessories," said Abdul Monem Al-Shahri, director general of the ministry in the Makkah region. 
Al-Shahri said the ministry had all the data of women-only stores being run and managed by expatriates and would continue conducting inspections to weed out the unlawful practice.The inspection also uncovered a Yemeni with a Saudi ID pretending to be a citizen. He later confessed he was cheating, according to officials.Similar raids were conducted simultaneously in leading markets in Yanbu where pharmacies selling women's items were targeted besides regular shops that sell perfumes and women's items.
The ministry also stated that men and women will work at different times of the day separate from each other and that women's working hours will be from 9 a.m. to 11 p.m. Additionally, shops that employ three or more Saudi women will have to employ one Saudi woman as their supervisor or manager. All violating shops will be categorized in the red zone of Nitaqat. Employment of expatriate women at these stores will lead to a fine ranging between SR3, 000 and SR10, 000 for each non-Saudi female employee. 
The employer will also be banned from obtaining visas or renewing the iqamas of their employees. Furthermore, any Saudi woman who helps a business by agreeing to register her name without working there will be deprived of the financial support provided by the Human Resource Development Fund for at least three years if it is her first violation. And if she repeats the offense, she will be deprived of the support for five years.  The ministry plans to achieve its goal of feminizing all shops selling women's accessories by October 2016.
Related items
Air India crew member arrested in Jeddah
Kuwait deports four expats for driving without licences
Expat hopes dashed as nationality rumor quashed
1,000 illegals held daily in Jeddah