India ready to defend World Cup: Tendulkar
Read 236 times
Comments::DISQUS_COMMENTS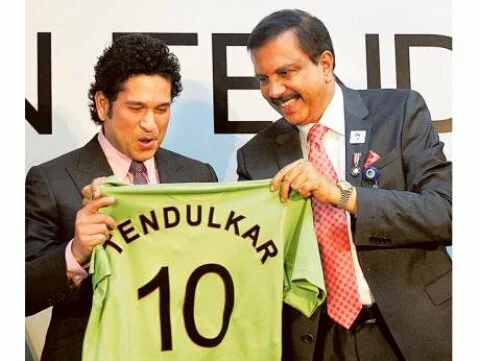 Dubai: Being a brand ambassador of ICC World Cup 2015, Sachin Tendulkar says he cannot afford to root for India - though it didn't deter him from showing his heart is in the right place. "I will only say that the defending champions are ready to defend," the legend said here on Monday.

The Master Blaster, who was unveiled as the brand ambassador of UAE-based Aster DM Healthcare with fanfare at a city hotel, was Down Under to watch India's opening group league game against Pakistan on February 15. The 'Men in Blue' have since then been on a hot streak in the tournament - winning seven matches on the trot as they square off against hosts and favourites Australia in the second semi-final in Sydney on Thursday.

While the assembled media at the press conference were denied an opportunity to field questions, Tendulkar took a trip down down memory lane to speak about his Man of the Tournament performance in 2003 World Cup for being the topscorer with 673 runs. "Unlike this edition, we did not start well in South Africa but then bounced back to win a number of matches on the trot. After the final loss (to Australia), I was so disappointed that I had stuffed in the golden bat presented to me for being the player of the tournament in the coffin without even realising that it was gold-plated.

"It was only after my friends asked for the bat on arrival in Mumbai that I realised it was actually a gold bat," recalled Tendulkar. It finally took him six World Cups and 22 years to realise a cherished dream when he was chaired by teammates after regaining the World Cup in Mumbai four years ago.

The launch of Tendulkar's latest brand ambassador role started with short videos on the growth of Aster Group, a leading healthcare provider with 150 outlets in the UAE (the latest one being launched in Abu Dhabi later in the day) and the cricketer himself. Striking the right chord, Tendulkar congratulated the UAE squad which qualified for the 50-overs World Cup but headed home after a first round exit. "My greatest joy is to see the sport globalised over a period of time. The more countries take to playing cricket, it will lead to the birth of new generation of cricketers," he said.

When the official presenter reminded him of the famous 'Desert Storm' innings in Sharjah in 1998, Tendulkar opened up immediately. "Yes, I was thinking about it when I landed here yesterday (Sunday). I had never seen anything like a sand storm before and being of a much lighter frame then, I was standing closer to Adam Gilchrist to ensure that I don't get blown away," he said with a chuckle.

"We had lost four-five overs because of the interruption and our target was revised. It was a must-win game for us to make the final and we finally won the trophy. Let me add on a subtle note that something similar may happen in a few days from now," Tendulkar said.

Commenting on the partnership between Tendulkar and the healthcare group, Dr Azad Moopen, Chairman and Managing Director of Aster DM Healthcare said: "Tendulkar will be a part of our Corporate Social Responsibility initiatives, helping to spread the message and reach out to public with socially relevant clauses."

The group, meanwhile, pledged to spend Dh1 million in India over a period of two years over a number of charitable causes as well as awareness drives on road safety.
Tagged under
Dubai
ICC
World Cup
Sachin Tendulkar
India
Related items
Pakistan NSA Sartaj Aziz to arrive in India for talks on August 23
India loses to Spian 1-4 in Europe Hockey Tour
India-born Sundar Pichai is the new CEO of Google
Pakistan rules out inviting Jammu and Kashmir Assembly speaker