The UAE's rough sandstorm conditions will persist for most of the weekend
Read 200 times
Comments::DISQUS_COMMENTS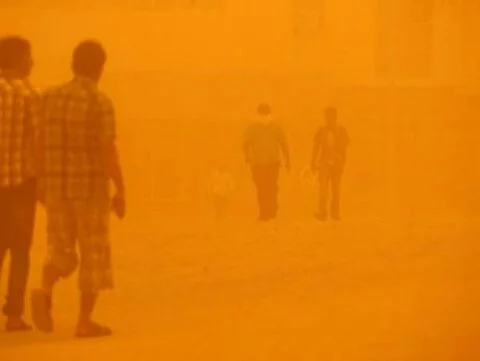 Abu Dhabi: The UAE's rough sandstorm conditions will persist for most of the weekend, gradually getting better from Friday, before being mostly clear on Sunday.
The sandstorm originated from Saudi Arabia, before reaching the UAE this morning, leading to very poor visibility across the country.
According to a spokesman from the National Centre of Meteorology and Seismology (NCMS) who spoke to Gulf News, there will not be any change in conditions on Thursday but the sandstorm will start to clear off by Friday.
"It is going to last all day today (Thursday) and through the night as well. By tomorrow (Friday) it will begin to gradually subside with an improvement in visibility conditions. And on Saturday, it will be hazy in general," he said.
Fishermen should also avoid the seas according to the official due to very and rough conditions in the water, with waves reaching up to 12 feet.
"Fishermen need to take care. The visibility is very poor on the sea, with wave heights at 8 feet, and increasing up to 12 feet," he said.
The official explained that the sandstorm originated from the north of Saudi Arabia.
"It then moved south towards Qatar, Bahrain, and the UAE. The sandstorm entered the western parts of the UAE after midnight, before moving eastward and affecting cities like Abu Dhabi and Dubai in the morning, with some areas of visibility being very poor at 100 meters," he said.
Related items
One dead and another tested positive for MERS in UAE
City of gold to get its shine back
Dubai Crocodile Park construction work to begin next month
Tropical storm to hit Oman in next 24 hours