Telangana CM woos PM Modi, BJP may ditch ally Chandrababu Naidu in Andhra Pradesh
Comments::DISQUS_COMMENTS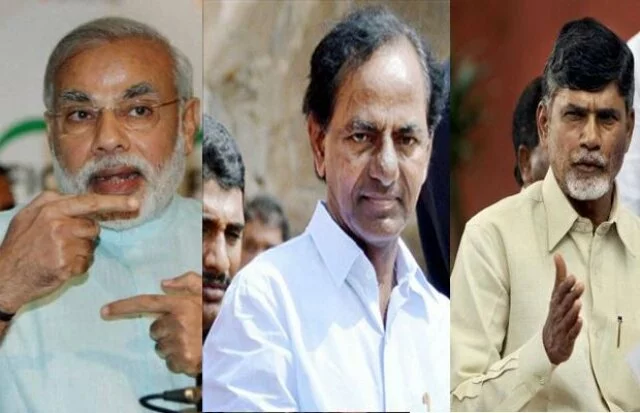 Hyderabad: True to the saying that nothing is impossible in politics, the TRS leadership has apparently extended an olive branch to the Narendra Modi government, even offering to join the Union Cabinet. A few "well wishers" of Chief Minister K. Chandrasekhar Rao in the BJP had moved the proposal with both Prime Minister Narendra Modi and BJP president Amit Shah recently.

However, the BJP national leaders didn't seem to be interested in the TRS proposal and maintained that they had in principle decided to grow independently in all the southern states and Odisha. Sources said the BJP may also come out of the Naidu government in AP soon, to induct leaders from the opposition Congress and the YSRC into the party.

Telangana Chief Minister K. Chandrasekhar Rao had decided in a TRS MPs' meeting recently that the party should not oppose the Modi government and there should not be confrontations with the Centre. Following this, Mr Modi reportedly thanked a TRS MP in Delhi for the gesture.

After this development was brought to the notice of KCR, he asked "his friends" in the BJP to negotiate about TRS joining Mr Modi's government. Mr Rao has twin purposes behind this political move. He is confident that he can contain both Congress and TD in Telangana but is not sure about the BJP.


Related items
BJP leader chased, shot dead in Patna
BJP cabinet is like Duryodhana says Janardhan Poojary
Congress raise Lalitgate, Vyapam issue in Parliament:Session disrupted
Vasundhara Raje meets BJP chief Amith Shah