Bengaluru rape: School director, principal arrested
Comments::DISQUS_COMMENTS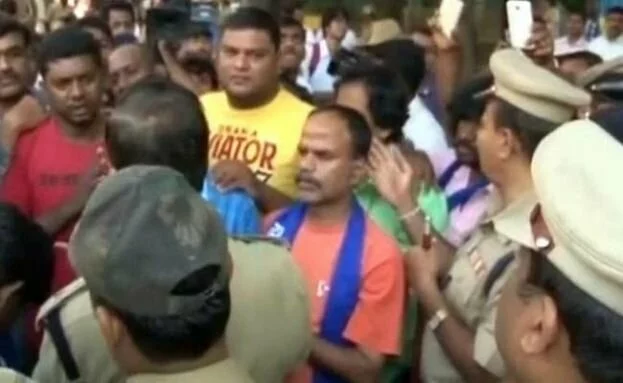 Bengaluru: The director and principal of a private school where a 6-year-old girl was allegedly raped by a teacher early this week were arrested Saturday, police said.
"We have taken into custody Indirangar Cambridge School director Pramod Arya and its principal Vijayanthi under sections 188 and 336 of the Indian Penal Code (IPC) for failing to comply with our safety guidelines meant to protect wards in schools," Additional Commissioner of Police Alok Kumar told IANS here.
A special team, set up to investigate the criminal case registered against the accused teacher Jaishankar, will also interrogate Arya and Vijayanthi for more information on the teacher whose conduct and behaviour towards girl students was suspect.
A local court on Friday remanded Jaishankar to seven-day police custody a day after he was arrested under sections 4 and 6 of the Protection of Children from Sexual Offences Act, 2012 and section 376 of the IPC on a complaint by the victim's parents.
According to the complaint, the sexual assault took place twice Oct 28-29 in the school premises.
"We will record the girl's version of the incident before a magistrate under section 164 of the CrPC (Criminal Procedure Code) after she recovers from the trauma she went through. Female staff of the probe team will counsel her to recall what happened, when and where in the school premises," Kumar said.
Meanwhile, the school management sacked Jaishankar from service after hundreds of parents of wards and activists of various social and political organisations continued to stage protest against the heinous crime and its failure to protect girl students.
"We are outraged and shocked by the recent incident. We are relieved the accused has been arrested and taken into custody. We have dismissed the accused staffer from service," the management said in a statement here.
The management has decided to reopen the school for classes from November 4 after implementing all the safety guidelines police recommended and conducting background checks of all male staff employed in the school.
"We are also installing more closed circuit television (CCTV) cameras in and around the school to monitor activities of faculty, students and visitors," the statement said.
Related items
Delhi school director beaten to death after bodies of two pupils are found in a ditch
Thieves de camp school books and materials
Bengaluru locals find a crocodile in the middle of a road
Two persons from Bengaluru die in a ghastly road accident in Koudichar