Automatic ticket vending machines at Mysuru railway station soon
Comments::DISQUS_COMMENTS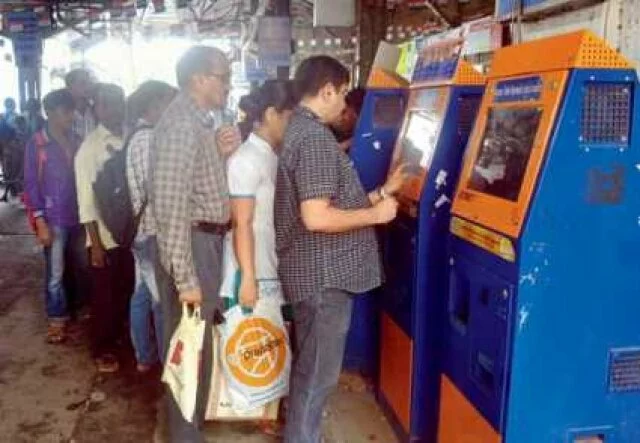 Mysuru: The city railway station will get six automatic ticket vending machines (ATVMs) by January 31. This move is expected to provide relief to regular railway commuters and passengers.

The new machines will be in place within a fortnight and will be a New Year's gift to passengers from Mysuru.

"While we are confident that the ATVMs will become functional in another 15 days, people can be assured that even in case of a slight delay, these machines will be operational by January 31," according to Mysuru Divisional Railway Manager Rajkumar Lal.

 He was speaking after the Mysuru–Varanasi Express was flagged off from the city station on Thursday. Though the train was running as a premium special, its services have now been regularised. The service was flagged off by Pratap Simha, MP.

ATVMs are a long-pending demand of stakeholders as it eliminates the hassles of standing in queues to procure a ticket. Mr. Lal said the ATVMs would be smartcard-based.

23 ATVMs

Sources in the railway said 23 ATVMs have been sanctioned for the Mysore Division and apart from the city, it will be installed at Davanagere, Shivamogga, Arsikere, Hassan, Birur, Harihar, Haveri and Bhadravati.

Mr. Lal said with the regularisation of the service, connectivity between two very important cities has been established. Besides Varanasi, people of Mysuru can also visit two prominent pilgrim centres — Mantralayam and Shirdi — en route.

On the recent survey by a Chinese delegation to enhance speed, Mr. Lal said the final reports were awaited and though a high-speed corridor would not be feasible, a semi-high speed section with a speed between 110 kmph to 130 kmph could be introduced.

He said work on shifting of Tipu's armoury at Srirangapatna had commenced and the track-doubling work was expected to be completed by March 31.

Mr. Simha said land acquisition issues were delaying the progress. He called for additional trains from Mysuru to other destinations in view of the impending growth of the city.

Vasu, MLA, sought a new railway station at Metagalli and halt for trains.

Train timings

The Mysuru–Varanasi Express will depart from the city on Tuesdays and Thursdays at 7.20 a.m. and reach its destination on Thursdays and Saturdays at 11.50 a.m. In the return direction, the Varanasi–Mysuru Express will depart from Varanasi on Thursdays and Saturdays at 9.05 p.m. and reach Mysuru on Sundays and Tuesdays at 3 a.m.