We don't need to learn lesson from BJP: Kharge
Comments::DISQUS_COMMENTS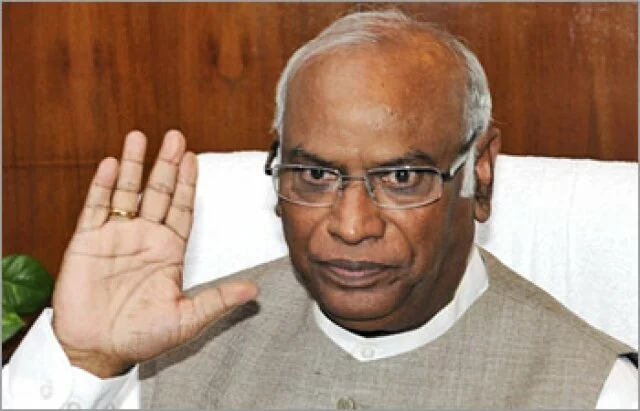 Bengaluru: Dismissing BJP national president, Amit Shah's visit to the state as of no consequence, Congress parliamentary party leader, M. Mallikarjuna Kharge on Saturday asserted that he would not succeed in destabilizing the Congress government in Karnataka.

"We don't need to  learn any lesson from the BJP, which was ousted in the state in 2013 after a series of scams," he said, declaring that the state government was stable and no amount of  effort to destabilise it would weaken it.

"Chief Minster Siddarmaiah has  given a stable government and so Mr Shah's designs will not materialise," he said in response to a question from reporters here.

Maintaining that the Congress had strong roots in the state and had support across Karnataka, he said the  BJP did not have as wide an appeal here. "He (Amit Shah) should focus more on his party rather than daydreaming about creating a Congress-free country," he said.

Arguing that voters in South India behaved diametrically opposite to those in the North, he said the Congress didn't  need to worry about Mr Shah's visit.

"Traditionally voters in south India don't support a one-man rule. His plans will not materialise," he insisted, dismissing  Mr Shah as yet another senior leader  visiting the state to look into his party affairs. "Why should anyone from the Congress be bothered?

"Our party is recognised by the masses and the BJP identified with the classes. So there is a huge difference in the politics of both parties," he added.


Related items
Indian Mujahideen is not a terror organisation: Congress leader
Maharastra:Opposition disrupts House over Land Acquisition Bill notification
35th foundation day of BJP celebrated in a grand way, but no official invite for L. K. Advani
Protest Rally by Youth Congress