Disciple's death: Deceased mother accuse Swamy Nityananda for daughter's death
Comments::DISQUS_COMMENTS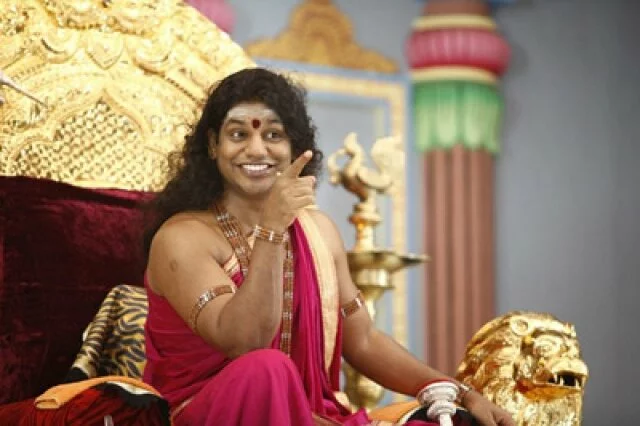 Bengaluru: Controversial self-styled god-man Swami Nityananda is in trouble again as the mother of Sangeeta, a devotee at his ashram who died on December 28, has alleged that her daughter was being harassed by Nityananda and others in the ashram. Also, she has suspected that Sangeeta did not die of cardiac arrest.

Jansi Rani, who held a press conference here on Sunday, said that she had approached the Ramanagar police and had filed a complaint requesting the police to exhume Sangeeta's body and to conduct a fresh post mortem to know the reason for her death.

"There are several instances where my daughter was harassed by some people in ashram. Sangeeta had returned home from ashram once, but Hamsaanana, a devotee, had forcibly taken her back to ashram in 2013," she alleged.

"Sangeeta was rechristened as Ma Nithya Turiyatitananda Swamini when she joined ashram in about four years ago. She was made the head of computer department in the ashram.

When I met her in the ashram, I found that she was assaulted. Sangeeta told me that actress Ranjitha had slapped her while others had assaulted her badly. I took her home and she had revealed that she had seen some incriminating photos and videos of Nityananda and had found Hamsaananda in a compromising position with a girl in another video.

A day later Hamsaananda came home and asked her to go back to ashram. He also intimidated us that if she did not return, he would file a false case against Sangeeta of stealing laptops and pen drives belonging to ashram," she alleged.

"I sent her back to avoid any false complaint, but I wished she would return soon. When I visited the ashram, Nityananda shouted at me and my daughter.

He also admitted that what can Sangeeta do by making the videos of him kissing and hugging Ranjitha public, when it was already public," Rani added.

Further, she said that her daughter was a healthy person and she doubted that she died of cardiac arrest. "When I visited the hospital, I found some fluid oozing out of Sangeeta's mouth and nose.

Moreover, Pranananda, a coordinator in the ashram, kept on asking me whether we will bury the body or burn it. They also insisted that I bury the body in one of Nityananda's ashrams .

Further, they got the post-mortem done without my permission at a private hospital. I request the police to conduct post-mortem again at a neutral government hospital, as some hospitals near Bidadi can be easily influenced by Nityananda. Even now some of the devotees are pressuring me not to approach police," she said.


Related items
Youth held for rape, blackmail
Bengaluru boy found dead in Nethravathy river in Dharmasthala
Facebook friendship: Married woman traced in Bengaluru with boyfriend
Barren paddy field gets a new lease of life