Ancient tunnel discovered that connects to the Palace!
Comments::DISQUS_COMMENTS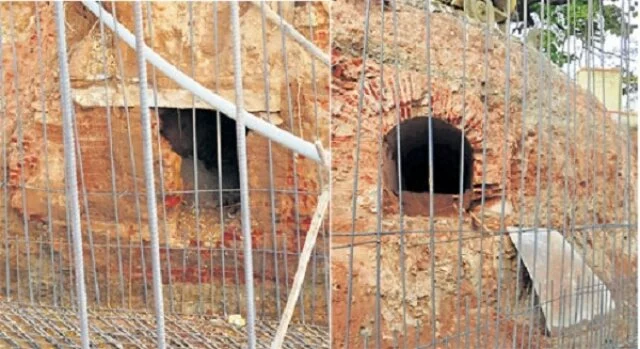 Mysuru: A tunnel, said to be connected to the Mysuru Palace, was discovered yesterday near Vishwamanava Park on Nanjangud Road in city during the ongoing drainage works on Wednesday Januray  22.

It is reported that while a JCB was digging the cross road connecting the Nanjangud road near Vishwamanava Park during the ongoing developmental works of the big drain that comes through Subbararayakere, the workers found the tunnel, which was about 5 ft. deep, constructed using bricks & lime mortar and covered with stone slabs. When the workers removed the stone slabs they found that the tunnel was 3 ft. wide and 4 ft. in height.

Curious onlookers who had gathered at the spot were heard speaking that the tunnel was connected to the Palace. Workers at the spot said that there was another pit which was about 15 ft. deep about seven feet away from the discovered tunnel. The workers added that the tunnel was  3 ft. wide and 4 ft. in height and was about 5 ft. deep made with bricks and lime mortar and used stone slabs to cover.

Meanwhile, MCC Ward 1 Corporator B.V. Manjunath said that the tunnel was discovered yesterday during the ongoing drainage works in his ward and added that earlier two pits were discovered near the Gun House which was assumed as the entrance to the tunnel but now a tunnel which connects the Palace has been discovered.

He further said that one end of the tunnel is near Shankar Mutt and the other end seems to connect the Palace and added that the secret of the tunnel would be known only after a probe by the concerned department and officials.

It is also learnt that during the King's rule, tunnels were dug on all four directions from the Palace for the Kings to escape during times of war.

It may be recalled that earlier, when two pits about 15 ft. deep with steps were discovered near the Gun House, officers of the Archaeology Department who inspected the pits, said that these pits were manholes.

Gavi Siddaiah of Archaeology Department, T.S. Subramanya, Deputy Director of Palace Board and Ravi, Palace Engineer visited the place where the tunnel found.










 


 





Related items
Karnataka to recommend Raichur, Dharwad and Mysuru for IIT
Forest officials need not recover the three acres of forest land: Rai
Ranji Trophy 3rd day: Karnataka concede first innings lead
Badal Nanjundaswamy,unique artist,unique way:to resolve civic problems