Flower flower every where!!
Comments::DISQUS_COMMENTS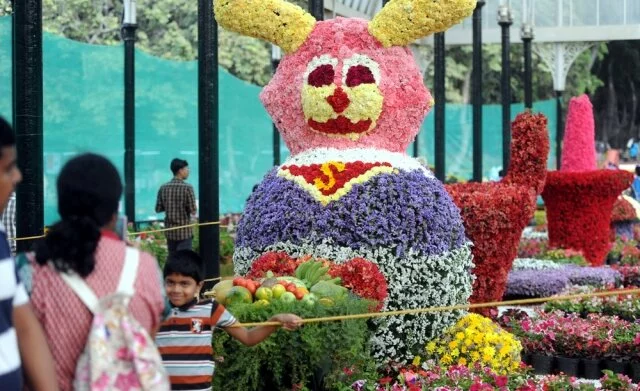 Bengaluru: The annual Republic Day flower show at the Glass House of Lalbagh Botanical Garden commenced on January 17th, and will continue until January 26th, Republic Day. The show displays a range of local and international floricultural presentations. This year's flower display  has a large number of visitors from Bengaluru and beyond.

This year's flower show has cracked the double century mark! The 2015 Republic Day edition of Lalbagh flower show is the 201st of its kind held here. This year the flower show has displayed  over 200 varieties of flowers and over 20,000 pots for decoration. Over 500,000 visitors are expected to see this famous flower show, over the 10-days it is open to the public.

The main attraction in flower show are the historic structures of 'Red fort' and 'The India gate'  made out of flowers. Additionally there displays of a  Veena, Tabla, Ice cream, Piano and Guitar constructed out of flowers which are also attracting the gazes of the visitors. 

Raghu V, Assistant Professor, Department of English, Vijaya College, Jayanagar sharing his experience on the flower show said, "I have been a resident of Bengaluru since birth and have been attending flower shows since my school days. It is heartening to see all the splendor of greenery and different flowers."

 "Earlier the crowd used to be calm and patient while going through the show, spending time at each display. However from 2000 onwards,  I have been observing the crowd is hustling and are in a hurry to finish the task of attending flower show. The numbers of eateries and other stalls too have gone up adding a commercial tinge to the show", he observed. He added, "the changing demography of Bengaluru has changed crowd behavior too".


Lalbagh Garden was known as the 'Rose and Cypress Garden' till 1856. Emperor, Hyder Ali's father was in the service of Dilawar Khan, Viceroy of Moguls'. Dilawar Khan had a passion for setting up beautiful gardens across Mysore. Among them the famous ones are the Moghul gardens at Sira near Tumkur, Lalbagh at Srirangapatna, a garden at Malavalli and the Lalbagh Gardens in Bangalore.

The Lalbagh gardens originally occupied 40 acres. Nurtured by Tipu Sultan, Hyder Ali's son, the garden had plants and saplings from Cape Town, Mauritius, Turkey Tenerife, Persia, Kabul and other places.

Hyder Ali laid out this famous botanical garden and his son added horticultural wealth to it by importing trees and plants from several countries. 

The garden today houses over 1000 species of flora which include rare and enchanting collection of tropical plants, trees and herbs. The Glass House, modeled on London's Crystal Palace, is the center of attraction in this 2400 acre park. Bi-annual flower shows on Independence Day and Republic day attracting participants and visitors from all over India are held in the Glass House.

The event is jointly organized by Department of Horticulture and Mysore Horticulture Society.

Every year, it's an eagerly awaited event.

The entry fee is priced at Rs. 50 on 26 January for adults where as other days the entry fee is Rs 40 for adults. Entry free for children on all days is Rs 10. Tickets to Lalbagh flower show available online. Lalbagh flower will be open for public 9 am to 6 pm

Pedestrians can enter the flower show from any of the 4 gates. However to parking space limitations, entry of private vehicles and school busses has not been permitted inside.

There are cloak rooms at each entrance of the Lalbagh Botanical Garden and handicrafts and other product stalls are set up inside. Police and security guards will be patrolling around the clock and around  40 CCTVs, hidden cameras and drone cameras have been used for providing security and monitoring suspicious movements.



Related items
After Crocodile, Now Anaconda Pop Out Of Bengaluru's Water-Filled Potholes
Rape on 3 year old child shocks Bengaluru
B'day boy, girlfriend killed in gruesome road accident in Bengaluru
B'day boy, girlfriend killed in gruesome road accident in Bengaluru