Grand opening for 81st Kannada Sahitya Sammelan
Comments::DISQUS_COMMENTS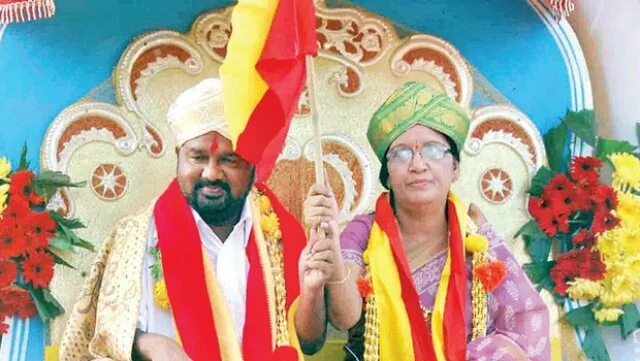 Hassan: The 81st Kannada Sahitya Sammelan got off to a colourful start here on Saturday. Over 81 troupes of artists participated in the procession, which was led by Poet Siddalingaiah, president of the sammelan. His wife, Ramakumari, accompanied him.

Hassan district in-charge Minister H.C. Mahadevappa, MLAs C.N. Balakrishna and A. Manju garlanded the poet to mark the inauguration of the procession. Mr. Balakrishna drove the cart, which was followed by a cavalcade of folk troupes performing Kolata, Veeragase, Kamsale, Gorava dance, Nandi Kunita, Jaggalimela, Karadi Majalu and stilt-walking. All along the procession, Dr. Siddalingaiah waved at the crowd.

Entire Shravanabelagola town was decorated with buntings and Kannada flags aflutter. The dais showcased the sculptures of Belur in the backdrop. The statue of Gommateshwara was placed on the left, while the statue of Nalwadi Krishnaraja Wadiyar was erected at the right side of the stage.

The slogans like "Kasargodu Nammadu" and "Belagavi Nammadu" by people clearly indicated unity among the Northern and southern Karnataka.

Former Prime Minister H.D Deve Gowda, Chief Minister Siddaramiah, legislators were among other present at the occasion.

Key speaker Siddalingaiah, poet and president of the 81st Kannada Sahitya Sammelan stressed the need for a movement, involving a large section of public, to ensure Kannada as a medium of instruction at primary schools. "I am hopeful that the sammelan at Shravanabelagola will help find a solution to the imbroglio over the medium of instruction in primary schools," he said.
Related items
KS Ravikumar's Next: Kiccha Sudeep To Romance Thala Ajith's Sister-in-Law In !
Uretta Kann da Siri book release
Crazy star to shake a leg with Baby doll!!
Crazy Star Ravichandran Is A Radio Jockey!