Bigwigs from tinsel town express disappointment at Kannada literary meet
Comments::DISQUS_COMMENTS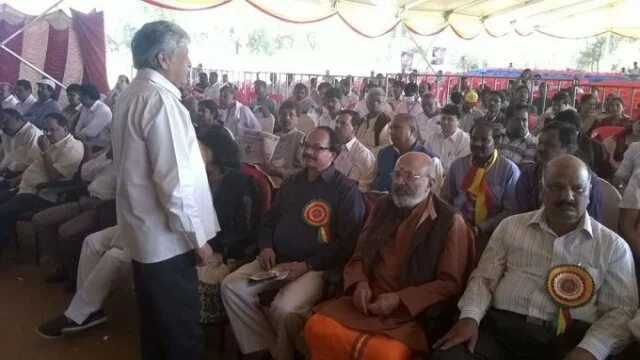 Hassan: Film personalities  who were disappointed with the seminar on the film industry staged  a protest, at being denied the main dais for the event at the 81st KannadaSahitya Sammelan.  In the end they succeeded in getting it shifted to the main dais.

Bigwigs from the tinsel town expressed disappointment that the session on Kannada cinema had been allotted the 'parallel dais' and not the main dais at the conference venue. The session, scheduled at 9.30 am, did not start even by 10.45 am, leaving the industry people miffed.

Actor Shivaram and director Rajendra Singh Babu were unhappy that there were not many people taking part in the session. The organisers pacified Shivaram and Babu and took the film personalities towards the main dais. Even after that, by 1 pm, the session did not begin. Disappointed, Shivaram and Thomas D'Souza, president of the Karnataka Film Chamber of Commerce, walked out.

Producer Sa.Ra. Govindu and a few others joined issue and alleged that the parishat had insulted the film fraternity. However, conceding their demand, the organisers shifted the event to the main dais and re-scheduled it.

Students protest

Students of the government higher primary school at K.R. Pet in Mandya district on Tuesday staged a protest in front of the main dais of the sammelan demanding uniform education to counter alleged disparities in the field of education.

The protest was staged under the banner of Samana Shikshanakkagi Andolana. Activists collected 20,000 signatures in support of their cause. Two students submitted a memorandum to Kannada Sahitya Parishat president Pundalika Halambi seeking the parishat's support for the uniform education policy. Mr. Halambi said uniform education was a serious issue. "The parishat will support those fighting for uniform education," he said.
Related items
Felicitation to Khadar is an honour to District: Bharat Seva Dal
Prakash Rao Payyar to be honoured at Akhila Bharatha Kannada Sahitya Sammelana