Togadia speech aired at Virat Hindu Samajotsava: Police to take legal action
Comments::DISQUS_COMMENTS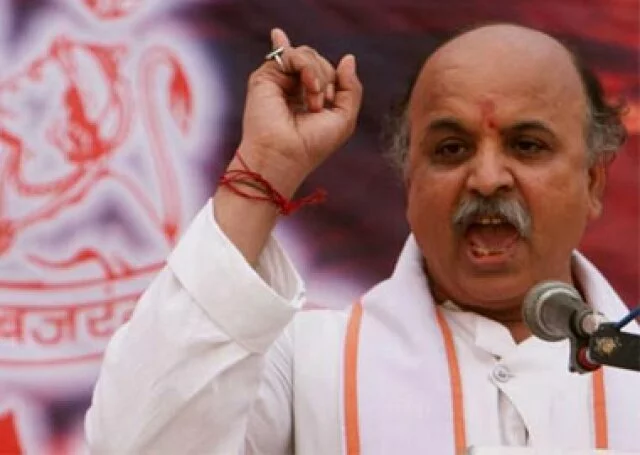 Bengaluru: The organisers of the Virat Hindu Samajotsava in the City played a pre-recorded video clip of a fiery speech by Vishwa Hindu Parishad (VHP) international working president Praveen Togadia in Hindi on Sunday. This is despite a police ban on airing his speeches in any form.

In the speech, Togadia said: "Let no one come and teach us religious tolerance. From the time of creation of the universe we have religious tolerance," hinting at US President Barack Obama's remark during his recent visit to India. Obama had said the "acts of intolerance" experienced by religious faiths of all types in India in the past few years would have shocked Mahatma Gandhi.

"Teach it to those who are into religious conversions. From now on, no Hindu shall be converted and we will do ghar wapsi to bring them back." He also said, "We will get rid of all Bangladeshi Muslims living in the country." 

He exhorted Hindus to come together, leaving the caste system behind, and demanded a "Samvidhanik Hindu Rashtra" (Constitutional Hindu nation).  

The clip — which was played at the end of the over three-hour conclave — stopped the crowd in their tracks, many of whom had started leaving the venue. As the two giant screens played the video clip, people stood in rapt attention. 

Additional Commissioner of Police (Law and Order) Alok Kumar, who was present at the venue, said: "The organisers have violated the police order. We have made a note of this. We will consult legal experts and go ahead with the proceedings. So far, we have not detained anyone.

On Saturday, City Police Commissioner M N Reddi had issued an order prohibiting Keshav Hegde, VHP organising secretary, and other organisers of the 'Samavesha' from displaying and transmitting any speech of Togadia through audio, visual or any other media at the venue for two days, from 6 pm on February 7 to 6 pm on February 9.
Related items
Send off ceremony of Mulky station police staff
Sniper shoots suspect in Dallas Police headquarters attack
Sexual assault accused arrested from Wenlock hospital
Increasing robbery: Police holds meeting with shop owners